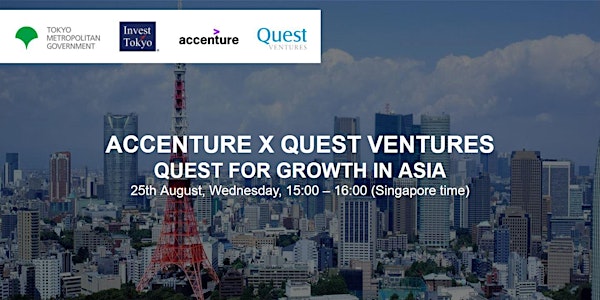 Quest for Growth in Asia, by Quest Ventures & Accenture
Quest for Growth in Asia with Quest Ventures and Accenture (Access to Tokyo Singapore, in support of Tokyo Metropolitan Government)
About this event
Details of Event
Quest for Growth is a series of expert sharing and masterclasses for technology startups looking to grow and scale in Asia.
Hear first hand from experienced experts in Japan and Singapore on the Asia market, startup ecosystem and navigating the business environment.
This webinar series is organised by Quest Ventures and Accenture (Access to Tokyo Singapore, in support of Tokyo Metropolitan Government).
Date: 25 Aug 2021, Wed
Time: 3pm - 4pm (GMT+8, Singapore time)/ 4pm - 5pm (GMT+9, Japan time)
Venue: via Zoom (link will be sent upon registration)
Agenda*
3pm/ 4pm - Opening remarks
3.05pm/ 4.05pm - Opportunities & success stories in SEA/ Central Asia
3.20pm/ 4.20pm - Opportunities & success stories in Tokyo
3.30pm/ 4.30pm - Q&A
3.50pm/ 4.50pm - Thank you and event survey
4pm/ 5pm - End
*Times in (GMT+8/ GMT+9)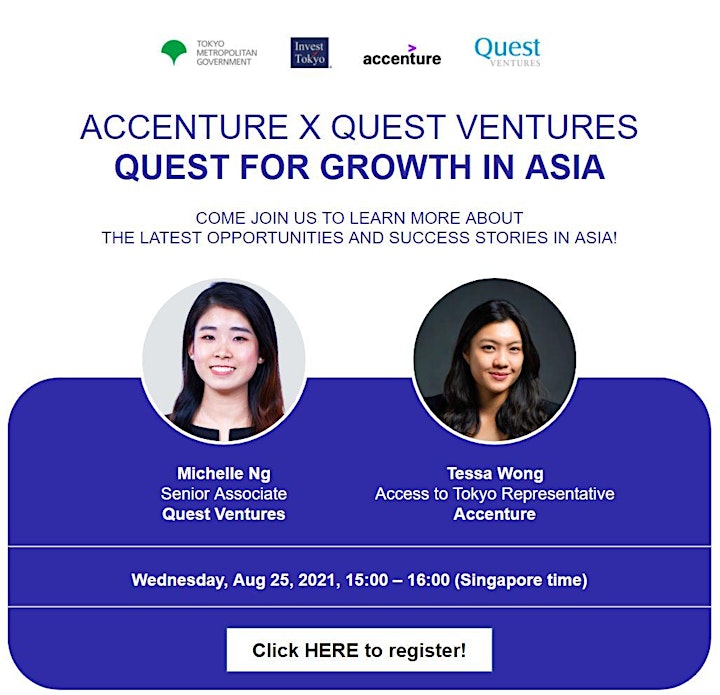 Quest Ventures
Quest Ventures is a top venture capital fund in Asia. Its portfolio of 90+ venture-backed companies operate in more than 150 cities across Asia, creating employment and advancement opportunities for more than 4,400 employees, while its Enterprise and ESG efforts directly impact thousands more.
For more information: www.questventures.com
Accenture
Accenture (Access to Tokyo - Singapore representative) has been engaged by the Tokyo Metropolitan Government (TMG) to support recruiting startups from outside Japan in the fields of advanced technologies such as artificial intelligence (AI), robotics, Internet of Things (IoT), big data and analytics, as well as in the fields of asset management and fintech.
On behalf of TMG, Accenture performs due diligence and scouts for best-fit startups within the APAC region. We build relationships with local chambers of commerce and other key executives, host seminars to promote the attractiveness of Tokyo as an investment destination and engage foreign startups to introduce the Invest Tokyo program to them.
For more information: www.accenture.com
Tokyo Metropolitan Government
The Tokyo Metropolitan Government (TMG) is the government of the Tokyo Metropolis.
In March 2021, TMG announced its "Future Tokyo" Strategy and shared its long-term vision for Tokyo to become the most open city in the world. It aspires to make Tokyo the world's number 1 startup ecosystem.
To promote Tokyo's innovation and entrepreneurship landscape and attract foreign startups and entrepreneurs to Tokyo, TMG launched the Invest Tokyo 2021 program to support foreign startups as they expand their businesses to Tokyo.
The support areas offered under the Invest Tokyo program includes strategic consulting to adapt to the local market, guidance through administrative procedures, and even assistance to find a suitable office location in the city. TMG looks forward to welcoming and supporting foreign startups and entrepreneurs as they make Tokyo a top city of their choice.
For more information: https://www.metro.tokyo.lg.jp