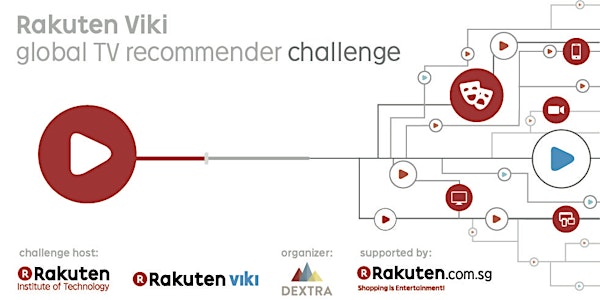 Rakuten Viki Challenge Finalists Presentation
When and where
Location
IDA Labs@NDC 111 Middle Road #03-04, Singapore 188969 Singapore, Singapore 188969 Singapore
Description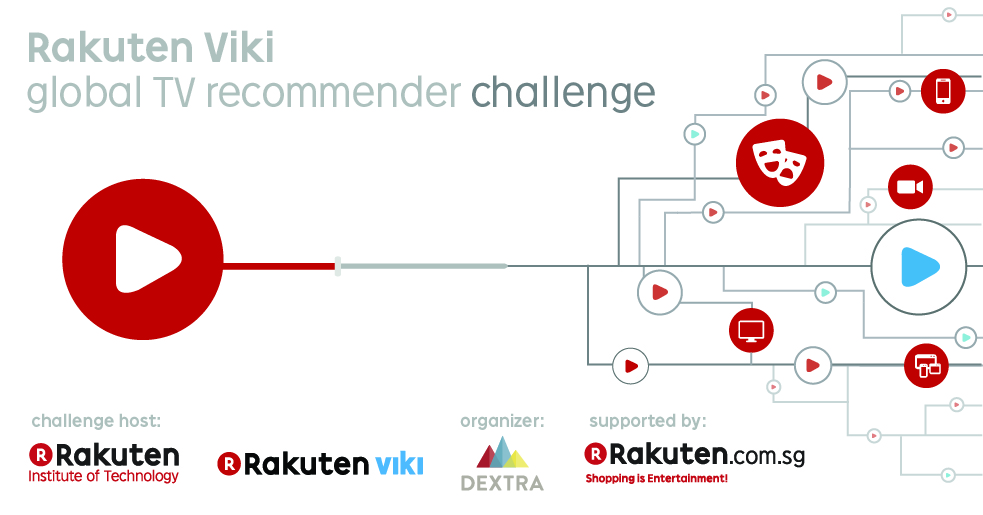 The Rakuten Institute of Technology partnered with Viki on bringing the Rakuten-Viki Global TV Recommender Challenge to the data science community of Singapore. The event builds on Viki's strength in crowdsourcing and co-creation, and celebrates the launch of the Rakuten Institute of Technology hub in Singapore.
In this challenge, Rakuten-Viki shared with participants a rich slice of anonymized data, giving a taste of viewers' preferences, popular content features, and TV fan demographics. Our goal is to build a personalized recommender system for Viki fans world-wide, following a set of user and business considerations.
The grand finale of The Rakuten Viki Global TV Recommender Challenge
Our big thanks to all participants who contributed to an overwhelming success of the Rakuten-Viki challenge. With 567 submissions from 132 participants, this challenge is definitely one of the most successful challenges DEXTRA ever organized to date. Following all the hard work put in by the participants, we would like to invite everyone to our grand finale on September 16th where 6 finalist teams will present their algorithms and findings to a panel of judges, and compete for the top prizes.

Please come on down to listen and learn from the best minds of DEXTRA community. This is the first time community can listen DEXTRA's final presentations. Our guest of honor Kiren Kumar, Director, Infocomms & Media, SIngapore Economic Development Board, will give a welcome message too. Register today and reserve your seat now not to miss this opportunity!

Following are our judges' profiles:
Masaya Mori, Global Head of Rakuten Institute of Technology
Masaya Mori first joined Rakuten in 2006 as the founder of the Rakuten Institute of Technology. Mr. Mori is responsible for developing and managing R&D, and planning & executing IT strategies within the Rakuten Group.
Rohit Dewan, CTO at Viki
Rohit oversees the product, engineering and content operations teams at Viki. Prior to Viki, Rohit was the founder of MeetHi, Inc., a social gaming studio in Silicon Valley, and operated a boutique e-commerce site that generated more than $1 million in annual revenue. He also was one of the early engineers working on Cisco's enterprise VoIP unit. Rohit holds six U.S. patents. He has a bachelor's degree in Computer Engineering from McGill University with a minor in International Development Studies
Ewa Szymanska, Head of Research at Rakuten Institute of Technology Singapore
Ewa is responsible for building Rakuten Institute of Technology hub in Singapore, leading research and technology development to deepen Rakuten's understanding of consumers in Asia and beyond. Before joining Rakuten, Ewa was a Behavioural Researcher at SingTel, in addition to leading data monetization and product marketing initiatives. Ewa was previously with General Mills' Consumer Insights in Minneapolis, and a digital marketing consultancy Rosetta in New York (now part of Publicis). Ewa received her PhD in Psychology of Decision Making from the University of Pennsylvania.

Takashi Umeda, Data Scientist at Rakuten Institute of Technology Tokyo
Umeda joined Rakuten in 2009 and has been working on many data science projects including recommendations, demand forecasting, and economic prediction. He has developed the first recommender for Viki in 2014, and continues his work on improving the system. He received a master's degree in engineering from Tokyo Institute of Technology in 2009.
Adam Lyle, Chairman of Padang&Co
Drawing on his 20 years of corporate expertise Adam moved into consulting and training, firstly in Australia and over the last 12 years in Asia, living in Taiwan and now Singapore. He has worked on change management programmes for a range of MNCs, such as Unilever, Holcim, HSBC and Conoco Philips. In recent years he has been applying traditional change management and employee engagement principles to assist companies embed sustainable business practices, increase innovation capabilities while embracing the potential of digital technology.

EVENT SCHEDULE
6:00PM: Registration
6:30PM: Refreshments
7:00PM: Welcome Address, Daryl Arnold (CEO, Newton Circus)
7:03PM: Welcome Address, Masaya Mori (Global Head of Rakuten Institute of Technology)
7:08PM: Welcome Address, Kiren Kumar (Director, Infocomms & Media, EDB, Singapore)
7:12PM: House keeping + Judges intro
7:15PM - 8:30PM: Presentations
8:30PM: Judges deliberation + networking
8:45PM: Prizes presentation by Rakuten Institute of Technology
9:00PM: Closing message, DEXTRA & Rakuten Institute of Technology


EVENT DETAILS
Date: Wednesday, 16th September 2015
Time: 6:30 to 9:00PM
Venue: 111 Middle Road #03-04, Singapore 188969
More Information
Please visit our blog posts, and Challenge Page for more information and DEXTRA to register for the future challenges. Please sign up for our newsletter to keep updated with new events and challenges.