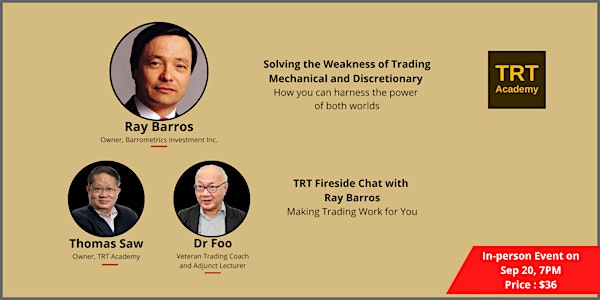 Ray Barros Solving Weak Mechanic and Discretion Trading
In this fireside chat with Hedge Fund Manager Ray Barros, Thomas Saw and Dr Foo Loon Sung discuss how to make trading work for retail trader
When and where
Location
TRT Academy Learning Centre 5 Purvis Street Talib Court #02-07, Singapore 188584 Singapore
About this event
TRT is honoured to have Ray Barros, renowned Hedge Fund Manager and Owner of Barrometrics Investment grace his presence at TRT Academy. He will be doing a special presentation on how to harness the power of mechanical and discretionary trading.
Ray Barros fund returns stand at an impressive 39% annual growth compounded, from the period of 1990 to 2005.
TRT veteran Traders, Thomas Saw and Dr Foo Loon Sung, will also join Ray in a fireside chat to discuss their views on making trading work for traders.
If you are a serious trader, this is a very special event. In total, they have managed a billion dollars in their career with decades of real world experience. They have gone through all manners of market conditions and will no doubt be able to provide you with experience that will be insightful for the market condition now.
If you have questions about how to strive in the current market, this is the place to get them answered.
20 Sep 2022 [Tuesday]
07:00 PM to 09:30 PM
TRT Academy [5 Purvis Street #02-07 S(188584)]
$36