A Virtual, Cross-Cultural Entrepreneurship Bootcamp where Students Aged 18-24 can network with peers across Asia, and build actual Startups.
About this event
Reactor EntreHack: Asia Virtual Edition
Youth Aged 18-24
1-3 June 2021
Tue-Thurs, 10am - 7.30pm daily
(Singapore Time GMT +8)
———
About Reactor EntreHack
A part of Reactor EntreCamp, Reactor EntreHack: Asia Virtual Edition is an open-registration programme for Students aged 18-24 across the Asia Pacific region.
It provides students with fundamental entrepreneurship skills (such as elevator pitching and revenue models) through hands-on learning, as well as the opportunity to experience cross-cultural exchanges with peers across the region.
Join EntreHack if you want to interact with like-minded peers and find potential co-founders. Participants who join this programme should be serious about starting-up, as they can expect to be challenged and pushed by both Reactor and their peers to make their business idea a reality.
The top teams from each EntreCamp/EntreHack cohort will showcase their startups at Reactor School's bi-annual virtual Global Demo Day.
What will Students learn?
Startup Best Practices & Fundamentals (Eg. user-centric design, lean methodology, validation and value creation).
Pick up Software used by Startups & Tech companies worldwide.
Experience what it means to be a Co-founder.
How to demonstrate an Entrepreneurial Mindset.
How to build a Prototype, Talk to Customers and Deliver an Investor Pitch Deck.
Have a Cross-Cultural Exchange & Learn with Students across Asia.
More about EntreCamp Asia:
What are the different EntreCamp levels?
We offer our EntreCamps at 3 different levels:
EntreCamp Level 1-2 (Ages 13-16)
EntreCamp Level 3-4 (Ages 15-18)
EntreHack (Ages 18-24)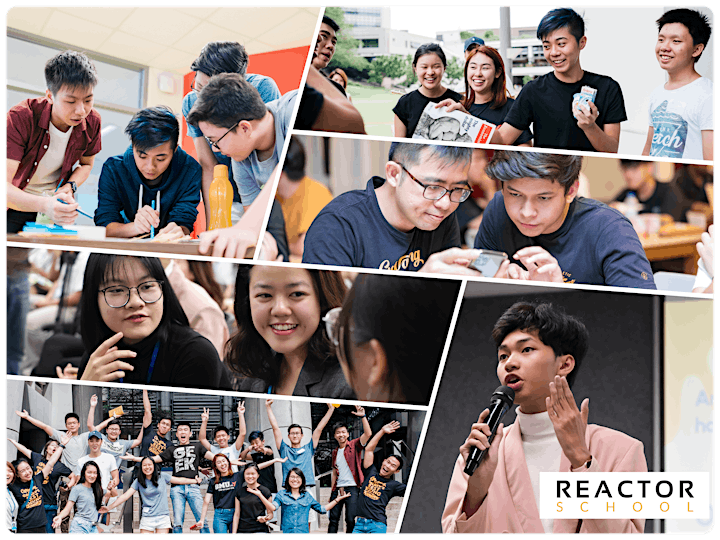 About Reactor School
Reactor School designs and develops Entrepreneurship Education (EntreEd) programmes for students age 13 to 24.
We help students turn their ideas into projects, and their projects into companies. Our Vision is to be a leading startup ecosystem developer, by elevating the levels of entrepreneurial mastery in youths. Our Mission is to Cultivate the Galaxy's Best Young Founders.
—————
Reactor EntreCamp Video
The Reactor EntreCamp has always been one of our most popular programmes. Find out more in the video below!
How will a Virtual EntreCamp look like?
EntreCamp (Virtual Edition) offers students the option of participating and learning from the comfort of their own homes. As schools observe social distancing and preventive measures, we have built a completely immersive digital experience to impart entrepreneurial skills to students.
How it Works
Students log in online from the safety of home.
Instructors deliver challenges and hands-on activities.
Students learn to deliver work and collaborate online.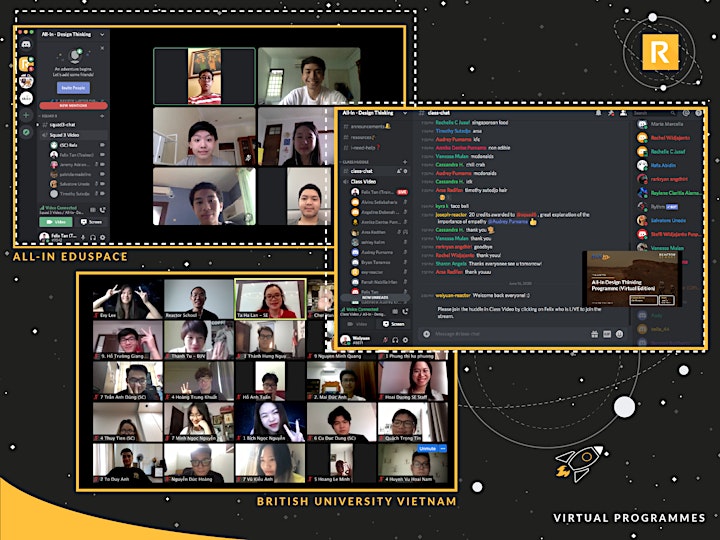 What do Students think of EntreCamp?
"It opened me to a lot of new useful knowledge, things that I didn't learn at school. I also love the 'hands-on' experience where we actually did a 'demo pitch'. I especially love the quick response and the high level of assistance during the entire session."
— Gede (Sekolah Pelita Harapan, Indonesia)
"My biggest takeaway is the importance of teamwork and time management, as well as developing leadership skills, which can help you improve in communication, teamwork, and organization, all important skills to being an entrepreneur."
— Phasakorn (Ruamrudee International School, Thailand)
"The fact that I learned about entrepreneurship will benefit me in the future whenever I plan to start a business.''
— Chien Yuee (Sunway College, Malaysia)
Reactor's Track Record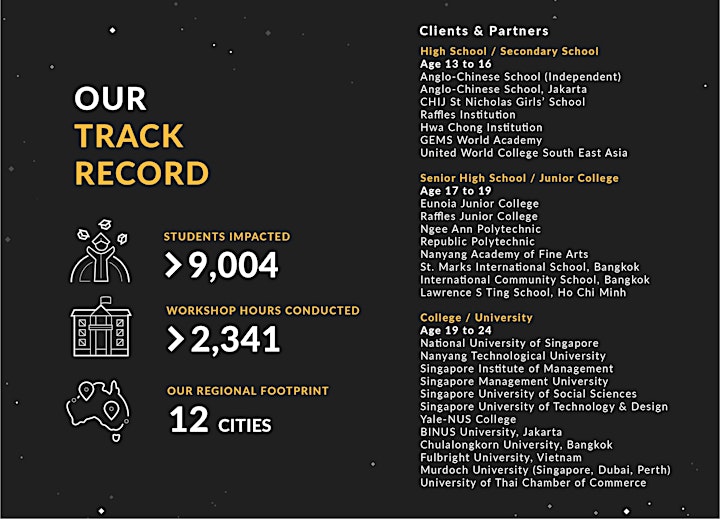 If you have any queries, reach out to us at greetings@reactor.school.
See you at Reactor EntreCamp: Asia Virtual Edition!
Date and time
Location
Refund policy
Organizer of Reactor EntreHack: Asia Virtual Edition

Reactor School (www.reactor.school) exists to develop the next generation of startup leaders with character and calibre, who will lead by serving and serve by leading. Our alumni use technology as a force for good, and join or build startups that create lasting, positive impact.
We believe that the world's biggest problem is that there are not enough young people solving the world's biggest problems. We are certain that the problems of the future will not only be more complicated, but also more complex, and that startups are a potent answer to address these issues. We trust that the youths of today stand a better chance at building their tomorrow when equipped with an entrepreneurial mind, and armed with a founder's spirit. We exist to enable young people to connect the dots going forwards, create lasting positive change, and in so doing, contribute to society and humanity.
We nurture #PeopleFirst, we empower our students them to #MoveFast, we challenge them to #BeBold, we ensure that they #HaveFun, and we excel to #BeAwesome. 
Our vision is to be a leading startup ecosystem developer by elevating the levels of entrepreneurial mastery in youths. 
Our mission is to Cultivate the Galaxy's Best Young Founders.