This Reactor Masterclass special is a 3-part workshop centering around advanced financial concepts in business for non-financial background!
About this event
Are you struggling with managing and planning the finances for your startup? We can help you with that!
WHO IS IT FOR?
Designed for students aged 16-21 that are currently running their own startup companies or those who are planning a startup company and are interested in gaining financial skills in business. This is also a programme that Reactor is in collaboration with Dr Nina Tan and 8nalytics. This programme is split into half-day workshops over 3 Saturdays, covering all fundamental topics on financial management in business operations, that are beneficial for all students from all backgrounds.
The virtual workshop is held online via Zoom Conference, over 3 Saturdays(half-day):
PROGRAMME DETAILS:
Workshop 1. Cash flow; 23 October 2021 (2:00 PM to 5:00 PM, GMT+8)
Manage cashflow of the business to meet business needs
Manage cost in the business for sustainable operations
Application and group discussions
Workshop 2. Budgeting ; 30 October 2021 (2:00 PM to 5:00 PM, GMT+8)
Develop financial budget to make profitable business decisions
Business projections
Application and group discussions
Workshop 3. Funding & Grants; 6 November 2021 (2:00 PM to 5:00 PM, GMT +8)
Assess the business health and funding needs of the company
Understand and develop different funding strategies to finance business
Formulate effective pitch to secure funding
Post mortem analysis
Get to understand the concepts of financial management through enjoyable and interactive group activities. Expect productive and vibrant outcomes after attending this programme and witness how it would help you in your startup endeavors!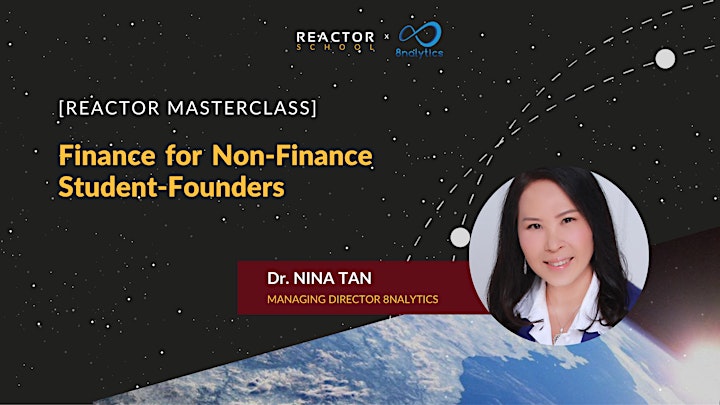 Dr Nina Tan is a Fellow Chartered Accountant (London ACCA), MBA holder, and a Ph.D. in Business Management from SMU. She was awarded the Top 100 Entrepreneur award in the Year 2020 and the best Art of War CFO by Sun Tzu Art of War Institute in the year 2016. Dr Nina Tan is a frequent keynote speaker acknowledged by many MNC and Fortune 500 Corporate Trainees for her practical and lively programs. She is a qualified Gallup Inc. coach, SMU certified Mindfulness Teacher, ACTA and DACE program curator.
Dr Nina Tan is a successful Serial Entrepreneur and has garnered more than 20 years of senior management experience in Multi-National Corporations, Listed Companies, GLCs, Healthcare and Audit Firms. She ran several successful startups, including her stint in the construction chemicals business that spans the US and Asia Pacific, which she subsequently sold off successfully to formidable Global industry player Sika. Previously, she championed the merger of trunk radio businesses between SingTel and Singapore Telecommunication.
She has garnered more than two decades of transformational leadership experience in mergers & acquisitions, strategic planning, restructuring, risk management, sales, operations, financial modeling, business performance management, investment structuring, tax planning, treasury, and international financial reporting across high technology, healthcare, telecommunications, and chemical industries.Enterprise SG appoints her as a business advisor to help SMEs build their Human Resources, Finance Management and Productivity Capabilities. Nina is acknowledged by many MNC and Fortune 500 Corporate Trainees for her practical and lively programs.
Visit her LinkedIn Profile: HERE
Organizer of Reactor Masterclass: Finance for Non-Finance Student Founders