Sales Have Ended
Registrations are closed
Thank you and see you soon!
Sales Have Ended
Registrations are closed
Thank you and see you soon!
You can only collect once (either aug/ sep/oct/nov/dec)
About this event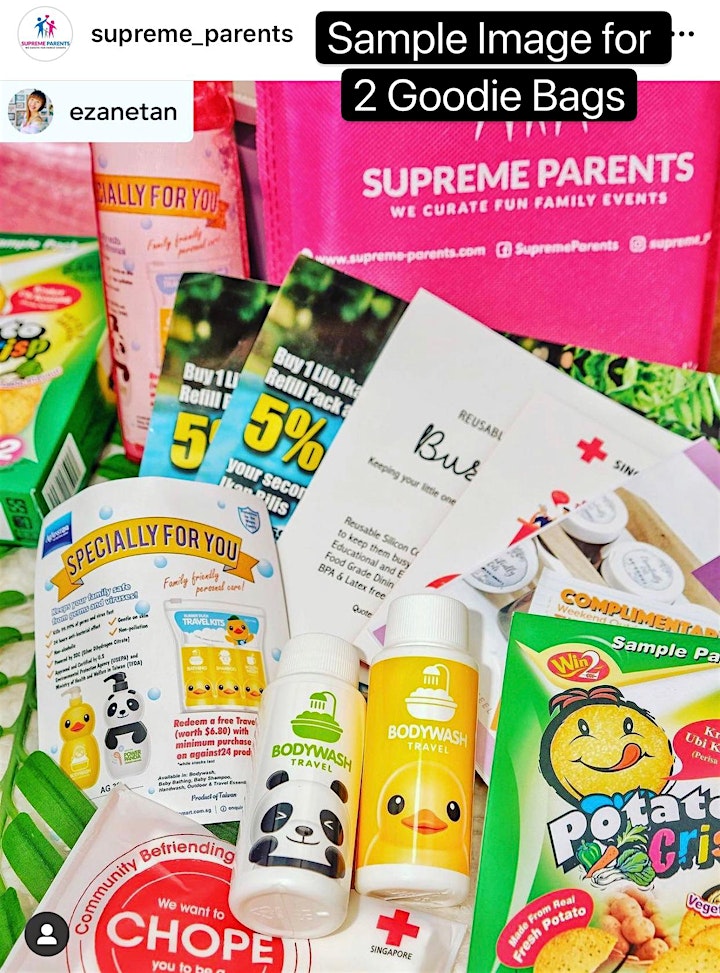 updated 21/10/2020:
Foreigners > age 18 residing in Singapore can redeem a bag too.
Kindly key in last 4 digits of passport number accordingly.
Singaporeans >age 18 will be verified against Nric.
*duplicated orders will automatically be cancelled.
*eg. Same email / nric/ passport/ name / hp
Thank you!
How to sign up? https://www.instagram.com/p/CDxysfHH9-8/
Supreme Parents is collaborating with Win Mart, GreendotMedia, The Polliwogs, LiloIkanbilis, EssentiallyOils, Firefly Photography & Busymats for this goodie bag redemption event.
Each Singaporean / PR aged 18 & above can redeem a free goodie bag worth more than $120.
*subjected to 1 Nric to 1 goodie bag.
Name on NRIC and last 4 digits of your Nric should be the same as your E ticket.
What's in the bag?
•Winmart Potato crisp x 1 box
•Winmart Against24 sample x 1
• Firefly outdoor Photography shoot Voucher worth $120
• LiloIkanbilis discount code
• BusyMatSg discount code
• EssentiallyOils discount code
This redemption dates From 11 August to 31 Dec 2020 (while stocks last).
We will release tickets month by month in order for us to check inventory. We will stop the redemption sign up once all goodie bags are fully redeemed.
Collection time is between 10am to 5pm on weekdays, except for Public Holidays. You can collect from The Polliwogs @ Suntec City OR The Polliwogs @ Vivo City.
Choose 1 Redemption venue:
You can collect from The Polliwogs @ Suntec OR The Polliwogs @ Vivo.
The Polliwogs @ VivoCity
1 Harbourfront Walk, #03-12 VivoCity, Singapore 098585
Or
The Polliwogs @ Suntec City
3 Temasek Boulevard, Suntec City Mall,
#02-728, Tower 4, Singapore 038983
Kindly stick to the chosen month for collection. If you need to make changes, you would need to re-apply a new ticket and inform us to cancel your old ticket.
Kindly check your goodie bag once you received it and do not linger around in the shop and abide by safety measures set by The Polliwogs. If there's any missing items, please inform staff before you exit store as we cannot provide you any exchanges once you exit store.
STEP-BY-STEP REDEMPTION GUIDE:
Step 1:
•Fill up your details including last 4 digits of your Nric
•Select month of collection
•Select venue
Step 2:
•You will receive your ticket in the email.
•Print the ticket / show the ticket at The Polliwogs
•Bring your nric along for verification
FAQ:
1. Can you help others to collect?
•Yes.
•You May help your family members or friends to collect too but you would need to show their tickets and their nric (images). This is also provided they have yet to redeem the goodie bag.
2. How many bags can I help to redeem each time?
•You May help to redeem a maximum of 4 goodie bags each time upon successful verification. Hence, you can collect a total of 5 bags including your Goodie bag.
•Each person / per nric can only redeem 1 goodie bag.
3. Will you keep a copy of our nric?
•No.
•But we will need to see your Nric for verification purpose.
4. What happens if I forget my ticket / nric?
•If you cannot provide us ticket information / nric ?
We cannot let you redeem the bag.
•If the nric information does not tally with the ticket information?
We cannot accord the bag to you.
Others:
•Goodie bag is reserved upon entering of required information for the particular month only. Eg. You signed up in August but you did not come, we may not reserve the bag for you.
•Duplicated tickets will be deleted without further notice.
•You will need to proceed to The Polliwogs to redeem your goodie bag.
We do not provide any delivery.
•You will need to present identification (nric) and full ticket (showing your name, hp, email, last 4 digits of nric).
•By signing up, you agree to release your personal information to all collaborating partners.
•Once you have signed up, It also means that You had read, understood and agreed to the FAQ as well as terms & conditions in the event description, and you understand and know that we will send all terms and conditions via eventbrite confirmation email.
• Any updates or changes will also be informed via sms or email.
*Terms and conditions apply.
TERMS & CONDITIONS:
1. PDPA
By signing up, you consent to being contacted via Facebook / meet up/ emails / mails / SMS / WhatsApp / phone calls by Supreme Parents and our goodie bag partners for accountancy transparency & clarity purposes, and for marketing or publicity purposes.
You may also check with us if you were being contacted by authorized parties by emailing us at supremeparents@gmail.com.
You are also automatically added to Supreme Parents' and all goodie bag collaborating partners' business mailing list where we will send our messages via contactable points provided by you such as email, mobile number and etc. You may unsubscribe at anytime by emailing us.
2. Media & Subscription consent
Organizers, co Organizers, sponsors and vendors and partners, reserves the right to use any photograph/video taken, without the expressed written permission of those included within the photograph/video.
Organizers, co Organizers, sponsors and vendors and partners may use the photograph/video in marketing material produced, used or contracted by Organizers.
By signing up for any events organized or co organized by Supreme Parents, you will also be joining our subscriber list for Supreme Parents and may be contacted by our event partners and vendors.
3. Indemnity
Ticket holder agree to release Organizers, co Organizers, sponsors and vendors and partners and all related personnel from all liabilities not restricted to loss, damage, injury or death.
4. Sick Child / Adult Policy
To ensure the well-being of everyone, all of us have to adhere to safety measures imposed at The Polliwogs. You understand that Organizer/ Venue Partner will not allow entry if adult / child has fever, and/or runs a contagious disease.
Organizer will make the final decision, without dispute.
5. Additional remarks
Each nric holder can only collect 1 goodie bag.
If organizer needs to cancel the event, full refund will be given back.
If you are not able to attend / did not attend your session To collect the goodie bag, you May contact Us to cancel your tickets. However, once redemption is made, you cannot cancel ticket.
Event partners reserve the right to check identification at all times.
We will send all important announcements and messages via email & sms.
The organiser reserves the right to change the T&C at its sole discretion without giving prior notification or any reasons thereof.
Data Protection Officer of Bizvents Pte Ltd:
Yvonne Lian
Hp: 90483586 (whatsapp)
Supremeparents@gmail.com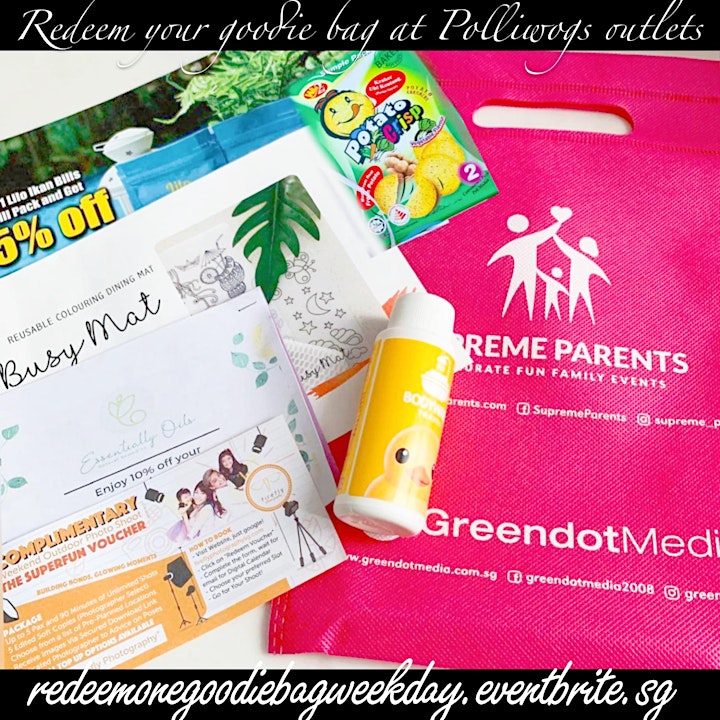 Organiser of Redeem 1 Goodie Bag at Polliwogs on Weekdays (play