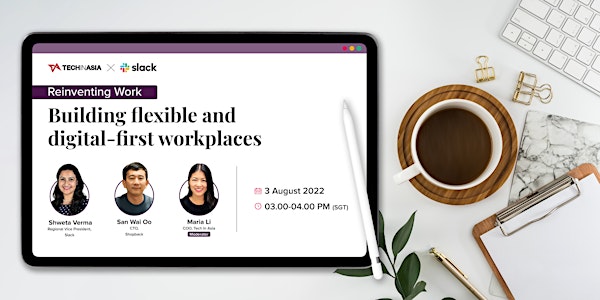 Reinventing Work: Building flexible and digital-first workplaces
Gain insights on how leaders build flexible and digital-first workplaces
About this event
The lines between in-person and remote work have become increasingly blurred, with compelling evidence from numerous recent employee surveys suggesting a clear preference for location and schedule flexibility. The future of work is here, and it calls for leaders to manage and marry the dynamics of this new normal.
This frontier presents organizations with unique opportunities as well as challenges to reinvent how teams work and collaborate, to reimagine how a strong culture and purpose can be nurtured to attract and retain talent, and to rethink the role of technology in enabling productive work anywhere in the world.
Join us on August 3, 2022, as our speakers discuss what flexible work looks like for a digital workforce, and share anecdotes of how leaders can discover their own footing in managing flexible teams.
The event will cover the following topics:
The future of work is flexible, and leaders must adapt in how they lead
The benefits of a digital HQ, and how leaders can build a strong culture around it
Technology enables and supports teams to work productively regardless of location
Steps to find the right balance in managing flexible teams
Who Should Attend
ITDM, CTO,CIOs, Head of ITs, or equivalent
About Tech in Asia
Tech in Asia (TIA) is the largest English-language technology media company that focuses on Asia. From the latest news and hottest trends to the boldest startups and strongest titans, TIA covers everything tech in the region. The company aims to build Asia's tech and startup community by bridging the gap between businesses and the information, talent, and connections they need.
About Slack
Slack is the collaboration hub that brings the right people, information, and tools together to get work done. From Fortune 100 companies to corner markets, millions of people around the world use Slack to connect their teams, unify their systems, and drive their business forward.
---
By registering, you're giving your consent to receive marketing and promotional emails from Tech in Asia and its partners.