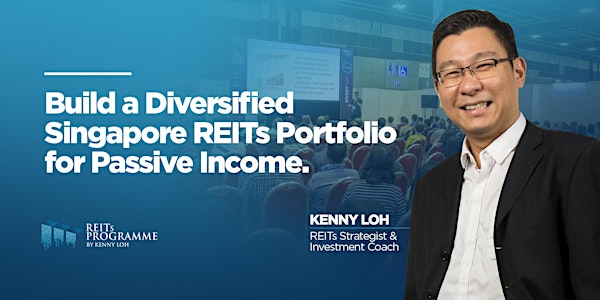 REITs Programme by Kenny Loh
The objective of this programme will help you build a diversified Singapore REITs Portfolio for passive income.
When and where
Location
RNN Conference Centre 137 Cecil St, #04-01 Hengda Building, Singapore 069537 Singapore, Singapore 069537 Singapore
Refund Policy
Contact the organiser to request a refund.
About this event
In this Q4 REITs Programme (Physical Classroom), Kenny will share how you can take advantage of the Singapore REITs (S-REIT) Market in the Final Quarter of 2020.
What does Phase 2 means for the Singapore REITs (S-REITs) Market?
Which S-REITs Sector(s) (Retail, Hospitality, Heathcare, Commercial, Industrial) are expected to grow exponentially due to Singapore reopening up again in 2020?
And which S-REITs Sector(s) are expected to fall by end of 2020?
How we can diversify our S-REITs portfolio for the highest margin of profit returns and minimal losses during this 2020 pandemic?
What's the S-REITs Market Outlook in 2020 & 2021?
And what are the investment steps I must prepare NOW for a strong & reliable S-REITs portfolio for next year?
All these questions form the key topics and foundations of this Upcoming REITS Programme and will be addressed extensively.
And you'll learn all the risks to consider before diving clueless into this S-REITs Market the final quarter of 2020, and a simple breakdown of actionable investment steps to take in order to start or enhance your REITs investing journey.
After attending this, you will take away a concrete understanding and actionable plan on how you truly profit from this highly lucrative Singapore REITs (S-REITs) Market to build a diversified Singapore REITs portfolio.
The Complete REITs Programme™ Curriculum
9:00am - 10:00am: Common Pitfalls of REITs Investing
Unique Investing Rules for REIT
10:00am - 11:00am: Introduction to REITs Investing in Singapore
Understanding Different REITs Sectors in Singapore
11:00am - 12:00am: Financial Ratio of REITs
How to evaluate REIT with a online REIT screener and a checklist
1:00pm - 2:00pm: Technical Analysis
Entry & Exit Rules and Signals
2:00pm - 3:00pm: Evaluation & Risk Assessment
Risk Assessment on the REIT
3:00pm - 4:00pm: Group Work - Sector Analysis
Case studies to reinforce learning
4:00pm - 5:00pm: Margin Financing, Dealing with Corporate Action with REITs, Other ways of REIT investing
How to DIY a Diversified REIT Portfolio
How to boost the return of the REIT Portfolio
What You Will Learn:
Understanding Different Types of REIT
Fundamental Analysis and Understanding Important Financial Ratio (Market Cap, PE Ratio, NAV, Gearing Ratio, Distribution Yield)
Analyse the Quality & Dividend Sustainability of REIT (Tenant Mix, Occupancy Rate, WALE, Debt Expiry Profile)
Risk Assessment of the REIT
Entry & Exit in REITs (Technical Analysis)
Valuation of the REIT (Undervalue, Overvalue or Fair Value)
Risks to consider before diving clueless into this Historical S-REITs Market plunge
Build a Diversified REITs portfolio from different sectors
Know that this REITs Programme is Only the Beginning of a Fulfilling Investment Journey with Kenny and everyone at Adam Khoo Learning Technologies Group.
The REITs programme is NOT a 1 Day "touch-and-go" Class. You'll also be invited to inner-circle groups for real-time discussions and sharings of REITs investments and opportunities.
The REITs Programme By Kenny Loh Will Include:
1) Hands-on LIVE REITs Online Programme (8 hours)
Hands-on group analysis on Local REITs Sectors
Conducted by Kenny Loh Singapore's most renowned REITs Investor and Coach
2) Exclusive REITs Scanner Softwares
Basic Online REIT Screener to analyse any REIT in less than 7 minutes and to time the REITs in just 3 seconds!
One month Subscription to Comprehensive REIT Screener
3) Proprietary REITs Resources & Tools
Comprehensive Checklist to Evaluate REITs
REITs Table of various Singapore REITs for easy analysis
4) Post-programme Support
Direct Access to REITs Coach Kenny Loh via Consultation Meet-up
Join one of Singapore's largest REITs Community
Meet like-mind REITs Investors to learn, share and discuss live-market outlook and updates
Join one of Singapore's largest REITs Community through a Facebook Secret Group, where you will learn, share and discuss live-market outlook and updates with me and fellow like-minded investors.
For enquiries, please get in touch with us by emailing to portfolio@akltg.com.
About the Speaker, Kenny Loh
Kenny Loh, one of the pioneer financial blogger in Singapore since 2009. http://MyStocksInvesting.com attracts over 19,000 blog readers from over 110 countries.
Kenny is especially passionate about REITs and has been conducting the longest running REITs investing course in Singapore where he teaches his simple yet effective method of REITs investing. Featured by media such as AsiaOne, The New Paper and SharesInv for his opinions about REITs, Kenny is also a much sought after speaker at events by organisations such as SGX, SIAS, CIMB securities, RHB securities, InvestingNote, City Index, OnlineTradersClub (Singapore) and Adam Khoo's Wealth Academy Investors Inner Circle.
Now, Kenny helps private clients in estate planning, and he is also licensed to advise and manage investment portfolio for private individuals, currently managing millions. Kenny trains with the wealth faculty at Adam Khoo Learning Technologies Group (AKLTG), specialising in REITS and investment portfolio building.
This physical programme is brought to you by Adam Khoo Learning Technologies Group, Singapore's largest training and education organisation.