Location
WORQ TTDI
Level 1, Glo Damansara Shopping Mall
699 Jalan Damansara
Taman Tun Dr Ismail, Kuala Lumpur 60000
Malaysia
Demystifying the Roadmap to Sustainability for SMEs
About this event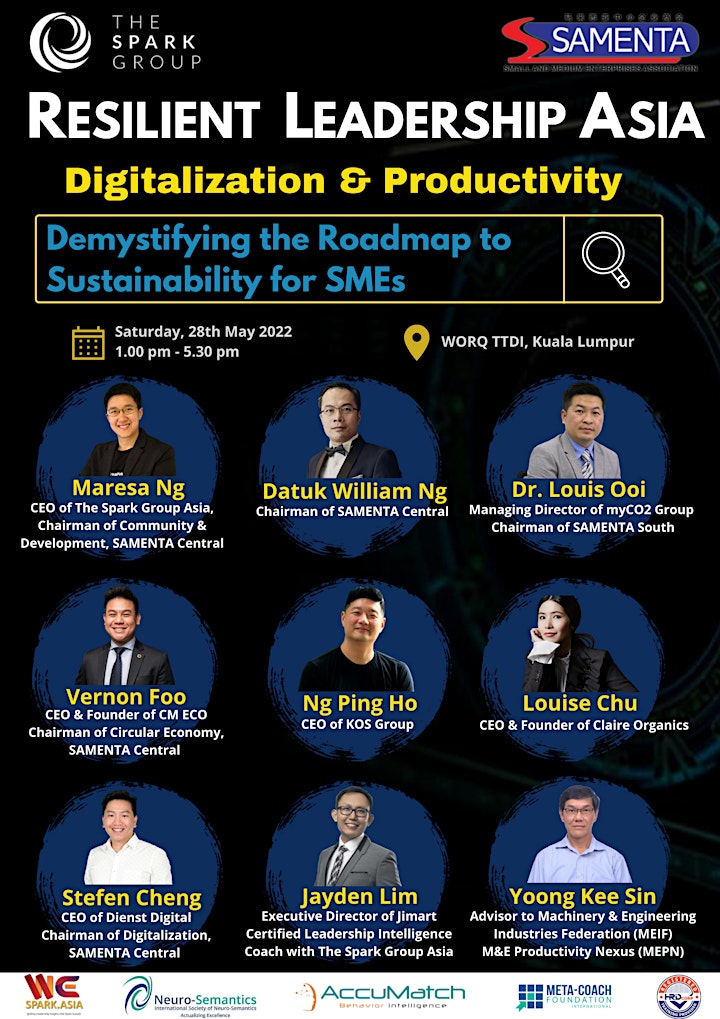 Resilient Leadership Asia Series: Digitalization & Productivity
Demystifying the Roadmap to Sustainability for SMEs
Many SMEs and smaller businesses have had to make urgent changes to their teams in the wake of the pandemic.
Teams have to be more productivity-based; meaning teams are remunerated based on productivity, not fixed-wage
With productivity-based organizations, companies need to be digitalized to track progress and monitor work, between a variety of workforce (permanent and outsourced employees)
Leaders & managers need to be more efficient and effective in coaching & leading their employees; where work environments are now either hybrid, virtual or physical
SMEs are challenged with the impending need to DIGITALIZE and become more productive, and while awareness and readiness are great, many are still lacking understanding and clarity about working with the right partners, without burning out themselves.
In the Malaysian landscape, we are not short of vendors and solution providers, but what we REALLY need is to demystify big-hairy-audacious words, into practical next steps, that lead to sustainability and profitability, in the near future.
Drawing insights from entrepreneurs and leaders in the industry, Resilient Leadership Asia brings you the roadmap to business sustainability with digitalization and productivity, enriching the knowledge to get you ahead of the rest!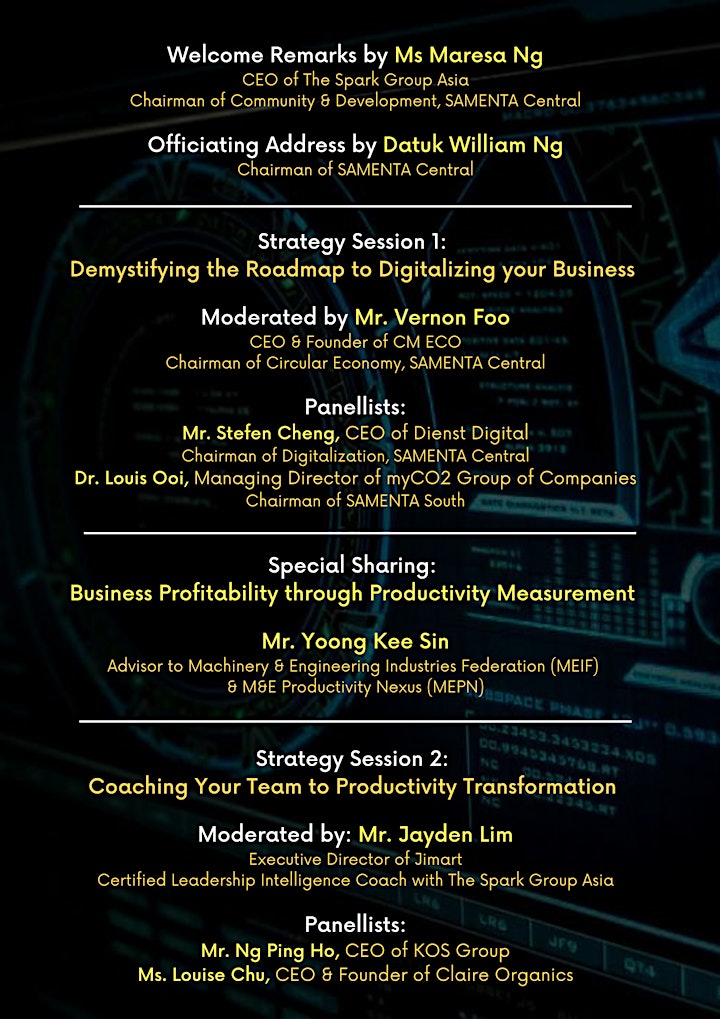 This Resilient Leadership Asia is suitable for:
CEO, Entrepreneurs, Leaders
Human Resource Directors and Managers
Business owners, SMEs
Event Venue:
WORQ TTDI
Level 1, Glo Damansara Shopping Mall,
699, Jalan Damansara, Taman Tun Dr Ismail, 60000 Kuala Lumpur
Register now while it's fresh on your mind!
You will also receive a goodies bag + certificate of attendance for attending the event.
Notes:
For any inquiries, please contact us at hello@thesparkgroup.asia or message us on WhatsApp.
Want to find out more about what we do?
Facebook Page:
www.facebook.com/thesparkgroupasia/
Website:
Terms & Conditions:
1. The Spark Group Asia has the right to reject your participation for any reason.
2. The Spark Group Asia reserves the right to change the event details with written notification in advance.
3. We will collect your data for future marketing purposes.
4. By disclosing your data, you agree for The Spark Group Asia to contact you in the future.
Additional Info
Who Can Attend?
1. Only those who have been fully vaccinated and "Low-Risk No Symptoms" status on MySejahtera will be allowed to attend. Attendees need to show their evidence (digital certification vaccination).
2. Full vaccination requires that a person has received 2 doses of Pfizer/AstraZeneca/Sinovac vaccine and completed 14 days from the date of second dose or 1 dose of Johnson & Johnson/Casino vaccine and completed 28 days from the date of vaccination.
3. Please arrive early to facilitate the verification process.
4. All attendees MUST wear a face mask throughout the event, and practice social distancing (stand 1 meter apart).
5. All attendees MUST perform self-tests 24 hours before the event and complete the declaration form.
Who Cannot Attend?
1. Those who are unwell or have symptoms of infections such as cough, fever, or flu.
2. Those who are ordered to undergo 7 days home quarantine at their own homes.
3. Those who haven't completed14 days from the date of the second dose of Pfizer/AstraZeneca/Sinovac vaccine or haven't completed 28 days from the date of vaccination for 1 dose of Johnson & Johnson/Casino vaccine.