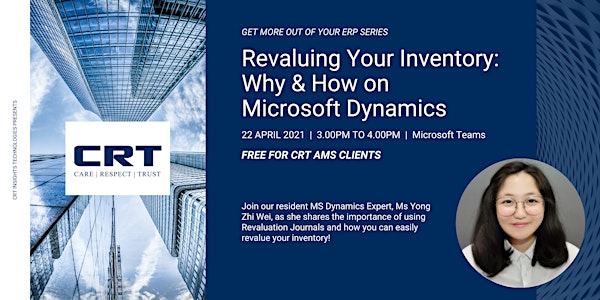 Revaluing Your Inventory: Why & How on Microsoft Dynamics
There are times when a company needs to revalue their inventory. This webinar will discuss the why's and how's of doing so on Dynamics ERP.
About this event
Revaluation Journals: Why & How?
This webinar is part of CRT's "Get More Out of Your ERP" series that showcases interesting functions in your ERP system with practical and applicable tips.
This webinar will cover:
Application of Revaluation Journals
Creation of Revaluation Journals
Posting of Revaluation Journals
Who should attend:
Finance Executives
Finance Managers
Warehouse Executives
Warehouse Managers
IT Officers
Pre-Requisites:
Basic NAV/Business Central knowledge
After completing this module, you will be able to:
Identify situations which will require the utilization of Revaluation Journals
Prepare the journal lines for items that require revaluation
Have traceable records of revalued inventory in Dynamics
About Your Trainer:
Ms Yong Zhiwei holds a Bachelor of Information Technology (Hons) and is a resident Solutions Expert for Microsoft Dynamics NAV & Business Central ERP Software. Over the years, she has helped many customers get more value out of their NAV/BC systems, transforming their business data into assets and deeper insights of their business.