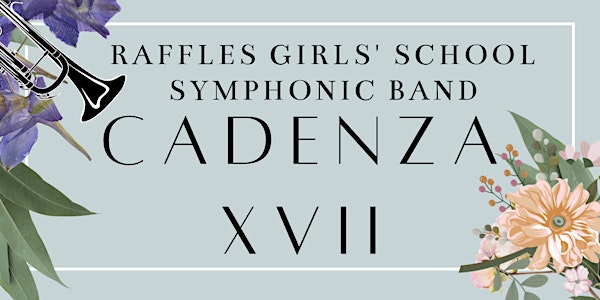 [RGSSB] Cadenza XVII: Reverie in Nature
Presenting to you the biennial concert of Raffles Girls' School Symphonic Band... Cadenza XVII: Reverie in Nature!
When and where
Location
Raffles Girls' School: Evelyn Norris Auditorium 2 Braddell Rise Singapore, Singapore 318871 Singapore
About this event
Important Notice
This year's Cadenza concert is restricted to the following groups of people:
- Parents of RGS Symphonic Band members
- RGS staff/student
- RGS Symphonic Band Alumni (2019-2021)
- RGS Symphonic Band instructors
Cadenza XVII: Reverie in Nature
"Cadenza" has been a biennial public concert for the band since 1988, and it serves not only for members to showcase their musical aptitude and develop performing confidence, but also for the band to communicate its passion for music to the public.
Enjoy the night with our repertoire of wondrous and nostalgic pieces played by not one, but three bands! Don't miss out on this delightful musical treat that will surely provide a platform for relaxation. What are you waiting for, claim your free tickets now!
Note
- Entrance will only be given to those with Eventbrite tickets.
- Auditorium doors will open at 7.30pm. We strongly recommend you to come by 7.50pm.
Duration
22 April 2022 8pm to 9.15pm.
Approximately 1 hour 15 minutes, with no intermission.
Repertoire
Band A:
- Lighthearted March (Yo Goto)
- Ghost Fleet (Robert Sheldon)
Band B:
- Formosan Wind (Park Soo-Hyun)
- Quartet in the Forest (Hayato Hirose)
Band C:
- Wind of Provence (Naoki Tasaka)
- Laputa: Castle in the Sky (Joe Hisaishi; Kazuhiro Morita)
Contact
If you have any questions please contact us at the following.
- Email: geri.tan06@rafflesgirlssch.edu.sg
- Instagram: @rgssb
Admission rules
House rules:
- Only students, parents, staff/instructors and alumni (from 2019-2021) will be allowed into the venue.
- Admission is subject to Eventbrite tickets produced at the entrance.
- No intermingling of performers and patrons before, during and after the performance at the venue.
SafeEntry Check-in:
- All patrons are required to do SafeEntry check-in at the venue via the TraceTogether app or token only. We regret that patrons who do not have the app or the token will be denied entry.
- Audience members must be fully vaccinated or exempted from VDS.
- Individuals who have recovered from a COVID-19 Infection, or are medically ineligible for a COVID-19 vaccination are exempted from VDS.
Late Seating Advisory:
- Patrons are strongly advised to be seated before the performance start time.
- Latecomers will only be admitted during specific intervals.
Photography/Video Recording Rules:
- Flash photography is not allowed during the performance.
- Please note that photographs and videos of patrons may be taken at this event for use in our archival and publicity material.
Help Us Keep Everyone Safe:
- Keep your mask on and practice good personal hygiene.
- Strictly no food & beverages will be allowed in the performance venue.
- Stay at home if you are unwell.