Description
Dear friends,
In 2008, a 9-km series of trails, bridges and walkways were unveiled – these reconnected the Southern Ridges which had been carved through by several roads (see map). An almost continuous traffic-free walk from NUS to HarbourFront became possible and takes two hours at a brisk pace.
This is an excellent way to get in some exercise at the end of a tough week, amidst a unique landscape and greenery. Get to know various points along the Southern Ridges and plan your future visits. But it all starts with a walk and we are hard pressed to find the time.
To get you going, NUS Toddycats are leading a series of brisk walks for NUS staff, students and friends from Yusof Ishak House Plaza (the wooden desk under the white canopy) through to HarbourFront MRT on the following dates:
Fri 26 Jan 2018 (cancelled due to bad weather)


Fri 23 Feb 2018 (cancelled due to bad weather)


Fri 23 Mar 2018

Fri 27 Apr 2018 (cancelled due to bad weather)


Fri 25 May 2018
The walks start at 5.30 p.m.
If you struggle to keep up initially, you can peel off at any time. Several popular stop points along the way are:
Your guides will be Kenneth Pinto, Xu Weiting, Joleen, Airani S & N. Sivasothi.
If there is threat of heavy rain, strong winds prior to a storm or haze, we will cancel the walk by email.
If you're not breathless, you're not walking fast enough!
FAQs
Why walk the ridge?
We are a group of volunteers - the NUS Toddycats - from the Lee Kong Chian Natural History Museum, and the ridge is our backyard. We walk the ridge for exercise and enjoyment among greenery and good company!

How do I get to the start point?

We meet at Yusof Ishak House Plaza. This is the covered wood deck area, across the road from University Health Centre.

The nearest bus stops are:
18321 (opposite University Health Centre)
18329 (University Health Centre)

16171 (Yusof Ishak House)
16179 (opposite Yusof Ishak House)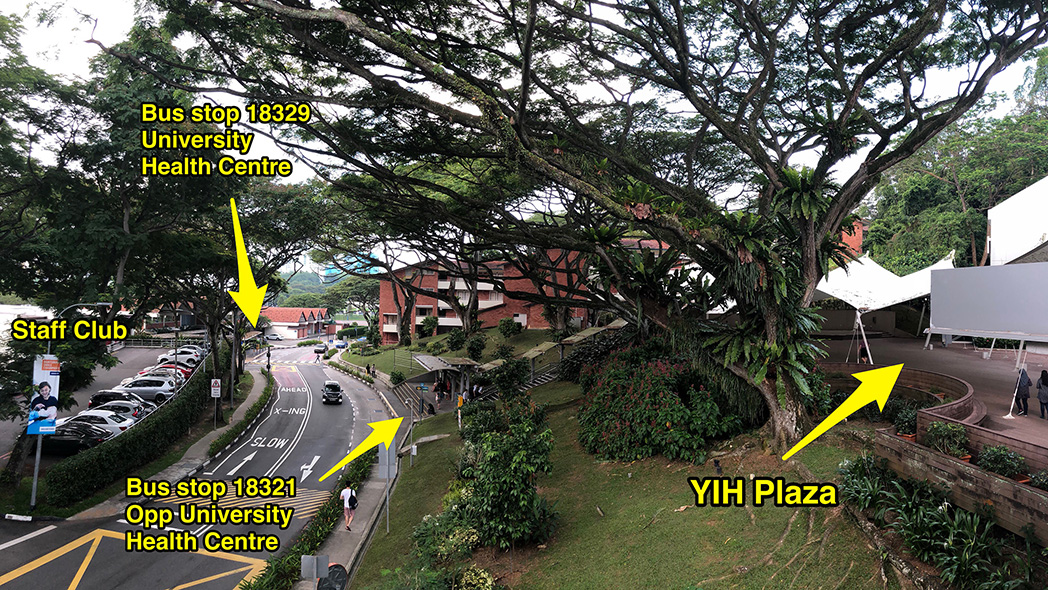 Can you start later?

We try to leave the start point at 5.30 p.m. to have ample time to reach HarbourFront before it gets dark. The last section of the walk - Marang Trail - is not lit.
If you know you will be late, you can try to intercept us while we are walking along Kent Ridge Road.
What is the distance? What is the pace?
The entire walk is about 9 km, more or less. But it is not flat ground - it's the Southern Ridges!

We walk slightly faster than normal walking pace (about 5km/h).
How should I prepare for the walk?
Get a good night's rest the night before.
Drink water throughout the day of the walk.
Eat enough for lunch, you won't be eating until after the sun sets! (Try not to eat just before walking.)
If you can walk at a brisk pace for half an hour, you should be able to do this walk. Don't worry too much about your fitness level as there are several exit points during the walk.

Must I complete the entire walk?
No, you can leave at any point. You know your body best, so don't overdo things, especially if you have not done the full walk at a brisk pace. Do let our guides know before you leave.

Convenient places to exit are:
Junction of Kent Ridge Road and South Buona Vista Road
nearest bus stops 15131 and 15139; near Kent Ridge MRT
Reflections at Bukit Chandu (Pepys Road)
nearest bus stops 15191 and 15199 or about 0.9km to Pasir Panjang MRT
Alexandra Arch (Alexandra Road)
nearest bus stops 18011 and 18019 or about 0.9km to Labrador Park MRT
Henderson Waves (Henderson Road)
nearest bus stops 14051 and 14059 or about 1 km walk to Telok Blangah MRT
What should I wear / bring?
Breathable clothing (long-sleeved tops and long pants help protect you from mosquitoes) and comfortable walking shoes
EZ-Link card and/or bus/MRT fare to get home

Some form of personal identification (NRIC)
The name of your Next of Kin and the telephone number in your wallet for us to call in case of an emergency
An extra t-shirt (you'll sweat) or change (it might rain)
A small towel (it's so humid, sweat won't evaporate off dry-fit t-shirts!)
Bring a snack along, if you are the sort that gets hungry easily
Bring at least one litre of water along, you will need it
There is always the threat of rain, so pack an umbrella, raincoat or poncho. Or at least a hat.
What is the adverse weather plan?
Sometimes it rains heavily, sometimes with lightning. Sometimes there is haze. If there is adverse weather, we will cancel the walk via email.
If there is lightning during the walk, we will find shelter at the nearest safe place.
I registered but now I cannot join the walk. How do I cancel my registration?
You can cancel your registration on the Eventbrite portal.
Log in to Eventbrite.
Mouseover your name on the top horizontal toolbar, then click Tickets.
Click the walk for which you want to cancel your registration. (If you have registered for more than one walk, be sure to click the correct date!)

Click Cancel Order.
You will be asked to confirm. Click Yes, cancel this order.

You will receive an email confirming the cancellation.
Organiser of Ridge Walk – a briskwalk series along the Southern Ridges