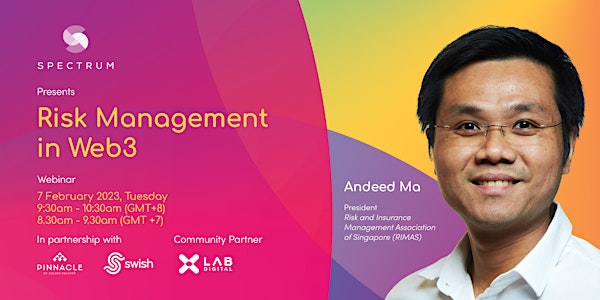 Risk Management in Web3
Navigate Web3 with ease by learning about the cybersecurity and regulatory risks present in the next iteration of the internet.
About this event
As Web3 approaches (also known as the next iteration of the internet), companies must be prepared to navigate a more decentralized, intelligent, and connected environment. Entering the era of Web3 means embracing a new level of risk management. Companies have to equip themselves with the means and knowledge to recognise, evaluate and mitigate potential threats to company resources and long-term financial success.
Join us in our upcoming webinar to understand the risks your organisation may face going into Web 3, including:
Cybersecurity threats: Cyber assaults and data breaches
Reputation risks: Unfavourable information that may be propagated about a company in an open and decentralized setting, which may harm the company's reputation
Regulatory risks: New laws and regulations that may emerge, and how to navigate them
Technology risks: Exploits, backdoors and other dangers that may be present in the new Web 3 ecosystem
Our guest speaker will also touch on the strategies your company might find useful to mitigate these risks, including:
How to create and implement robust cybersecurity protocols
Proactively managing your company's reputation
Staying compliant with laws and regulations
Analysing and controlling the risks associated with new and developing technologies
About our Speaker
Mr. Andeed Ma , President, Risk and Insurance Management Association of Singapore (RIMAS)
Andeed has been a cloud business and risk management leader for more than 15 years in major technology companies such as Servicenow, Ivanti, and ByteDance.
He leads a non-profit enterprise risk management association known as RIMAS as its President and Chairman of the Governing Council.
Andeed gives lectures to working professionals at various universities on topics around Web 3.0, Embedded Finance, Regulatory Technology, Risk Management, Hyperautomation and Artificial Intelligence, as well as coaching startup founders in various incubation programmes such as UOB FinLab, German Accelerator Southeast Asia, and university incubators.
He is also a board member of an EdTech and a board advisor to NUS Alumni Ventures (NAV).
About SPECTRUM
A curated workspace designed to provide an authentic community experience, along with the connections and resources needed to expand innovative businesses.
About Pinnacle
A learning and development initiative, spanning NextGen empowerment and upskilling, entrepreneurship bootcamps and executive learning.
Learn more about Pinnacle - http://pinnaclelearning.global
About Swish
An app for professional communities that seek to inspire and create positive impact, through knowledge-sharing, interest groups, collaboration and connection.
Learn more about Swish - https://swishconnect.global