Sales Have Ended
Registrations are closed
Thank you for your interest. Please join our waiting list to be informed of a place for this workshop when it is available.
Sales Have Ended
Registrations are closed
Thank you for your interest. Please join our waiting list to be informed of a place for this workshop when it is available.
Join SAGE Counselling Centre's workshop to learn the Japanese art of re-assembling broken pottery pieces. Suitable for beginners!
About this event
About Kintsugi
The Healing Art of Modern Kintsugi is a workshop inspired by the philosophy of Kintsugi.
Traditionally, Kintsugi is the Japanese art of putting broken pottery pieces back together with gold — a metaphor for embracing our flaws and imperfections.
Our respect and adoration of Kintsugi inspired us to apply the philosophy to this workshop as a metaphor for healing and meditative art.
Workshop Overview
In this 2 hour session, we will learn to slow down and have a conversation with ourselves, sit down with our imperfections, face them headstrong and rebuild our broken pieces, enabling us to be stronger than before.
This experiential workshop is probably the only one where you are allowed to break things! The process of breaking an object is a symbolic representation of life's adversity, teaching us that sometimes life slaps you in the face. When it does, we cannot control if we will shatter into pieces or perfect halves.
We can only face our broken pieces headstrong and create something stronger and more beautiful out of adversity.
As part of upcycling efforts, you will be using beautifully curated pieces with slight manufacturing defects, and also get exclusive access to an array of gold powders that are hand mixed by the vendor –– something you will not find anywhere else!
*These pieces can be used as accessories, trinket dishes, brush / pen holders or decorative art. Due to the adhesive solution and pigments used, these restored pieces are not food safe. Please do not microwave, bake or put the pieces in the dishwasher.
The workshop will be conducted via Zoom.
Date:
11 December 2021 (Saturday)
This workshop is organised by SAGE Counselling Centre. Please note:
The maximum number of participants for this online workshop is 10. Priority will be given to new participants who have not attended SAGECC's workshops before.
Participants who have joined our workshops before may join the waiting list. We will contact you if there are place available. Your place will only be confirmed when when payment is successful.
The deadline for registration is 12pm, 30 November 2021 (Tuesday).
There will be a $10 administrative and processing fee charged for this workshop. Payment details will be sent to you when you have successfully signed up.
All materials are included in the fee. It will be supplied and delivered to your address.
Photos are for illustration purposes.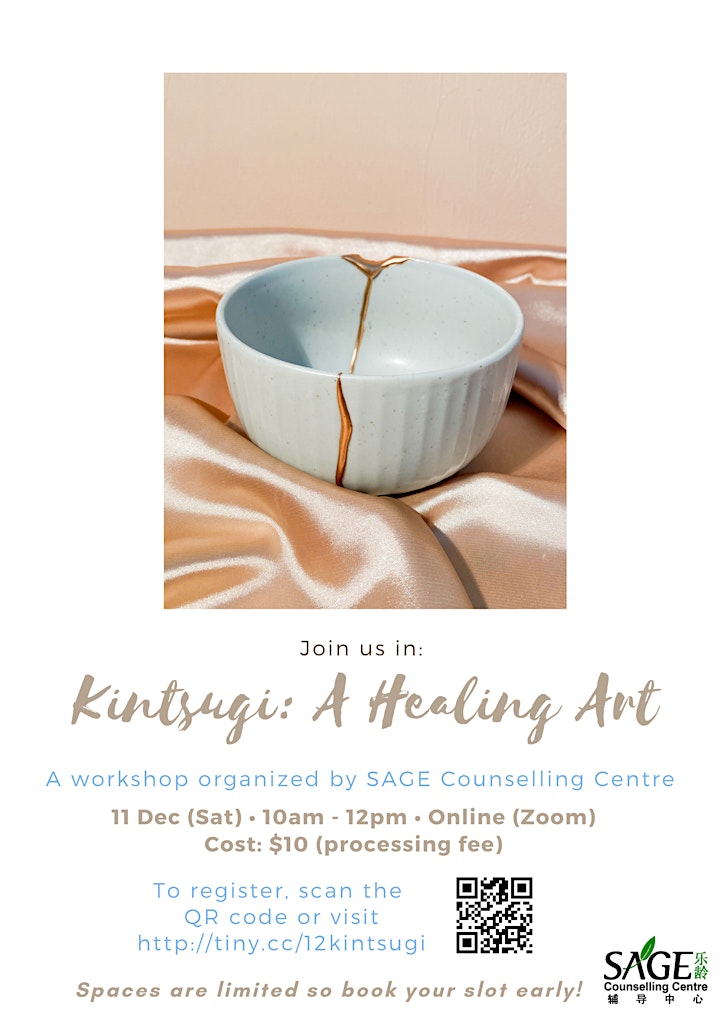 Details of our other workshops may also be found in the image below. Please share with your friends who may be interested!
Organiser of [SAGECC Workshop] Kintsugi: A Healing Art
SAGE counseling Centre is a non-religious and non-profit voluntary welfare organization fully funded by Ministry of Health providing face to face counselling to anyone 50 years and above or anyone that are facing issues relating to the elderly person.  We also run The Seniors Helpline (1800-555-5555), a toll free telephone counselling helpline for the seniors, their caregivers, and anyone facing issues in relation to ageing.