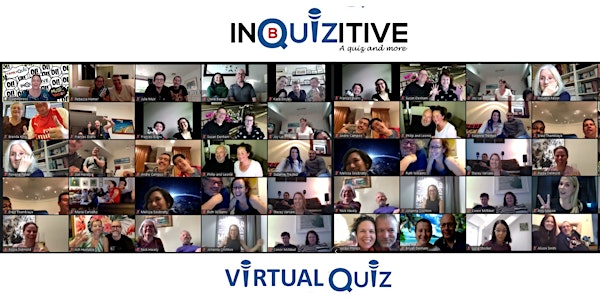 Saturday Virtual Quiz 16th October 2021
Join your friends and family from around the world. SIX ROUNDS!!! OI! OI! OI! ALSO A CHANCE TO WIN A $50 DINING VOUCHER!
About this event
PLEASE NOTE: The intellectual property of the quiz is proprietary to Be Inquizitive and is not permitted to be replicated in any form including recording, downloading and streaming or live sharing. Participants found not abiding by these terms may be removed from a live event and possibly banned from future events.
FINALLY: If you have not received Zoom Link, Rounds & Google online forms by 2pm the day of the event. Inform Be Inquizitive (info@beinquizitive.com) BEFORE 4pm. (Just like the box you ticked saying you understand this!)
When: Sat 16th October 2021
Time: 8pm
How: Zoom Meeting
WHAT YOU NEED TO KNOW
The quiz will run for approximately 2 hours and consist of SIX rounds. We will host the quiz as a Zoom Meeting. You will be able to take part as an individual or as part of a regular team (joining from several locations) See registration below.
AGENDA
14.00 - Details of rounds and links to online answer forms will be sent via Eventbrite email.
19:30 - Zoom Waiting Room will open
19:45 - 19:55 - Joker selections must be finalised.
20:00 - Quiz begins
22:00 - Approx finish
Breakout Rooms open for an hour or so afterwards
HOW TO PLAY
Upon registration all registrants will be sent an Eventbrite confirmation and you will subsequently receive a Zoom connection email. The Zoom email will contain your unique access link to the quiz which is restricted to ONE device. Each device connection must be registered under a different email address and requires separate registration.
Zoom works across all platforms (Web browser, tablet, smartphone, Zoom app etc.) and as a participant you don't need a Zoom account to take part.
We will be assigning you to Zoom breakout rooms according to your team names, where you will be able to huddle and discuss answers at the end of each round before you submit your final answers. This is of course optional as each team will operate differently.
We will be using Google Forms as online answer sheets for the quiz. Links to these will be sent in the information email containing the rounds at 14.00 on the day of the quiz. You need to appoint a "Team Leader" who will be responsible for submitting your final answers. This person we suggest should have the answer sheet open on a separate device to the one you are Zooming on to avoid the need to switch screens.
Now all you will need are your favourite quiz beverages and some snacks to keep you in the feeling of being at the regular pub quiz night!
REGISTRATION (IMPORTANT, READ CAREFULLY)
If you are playing with fellow teammates and your team members are in different households/locations each location will need to register at least one connection (e.g. two members from one household playing together can register once, six team members each playing from a different household will have to register a connection each totaling six connections).
MARKING, SCORING & PRIZES
This is a professional pub quiz and is just for fun so there will be no prizes, just the glorious satisfaction of getting answers correct and perhaps seeing you/team name at the top of the leaderboard. Be guided by you own/teams moral compass when answering questions. Remember these are designed to be fun and we are not playing for a sheep station. The other prize is being able to gather virtually with a group of friends/fellow quiz patrons and take a break from the monotony of being stuck at home.
ADAPTING TO A NEW ENVIRONMENT
Do bear in mind we can't control all connectivity quality issues nor be responsible for your home network setup. There may still be some teething problems and it is still a learning curve in pulling all of this together. Let's keep an open mind and see how it goes. Main thing is have fun!
QuizMistress has the final word. (Well, we ALL knew that!)
FAQ
IS THERE A MAXIMUM IN A TEAM ?
No. It's about friends, family and fun!
Please, no phones during the quiz unless that is how you are playing/watching.
Photos and videos may be captured during the event and used on social media as well as for marketing purposes. If you do not wish your photo to be used notify the organiser of this event.