3-week course with Resident Teacher Kelsang Rabka.
About this event
May 12, 19 & June 02 (** No class on May 26)
Stress is the inner tension that arises as a result of what's happening as opposed to what we want to happen. When things don't quite go to plan, whether we like it or not we need to learn to come to accept what is actually happening. Only by doing this will we be able to avoid the unnecessary stress that is all too common in modern life. If we can change things then there is no need to get stressed. And if we can't change things then there is also no point in getting stressed.
In this brief series we will explore tried and tested Buddhist methods that will help us to accept the difficulties that life throws at us, and in this way enable us to begin to reduce and abandon stressful states of mind.
-----------------------------------------------------------------------------
BOOK THE 3-WEEK MEDITATION SERIES AT THE SPECIAL RATE OF $35
Book per class at the standard rate of $15 per person
(NOTE: This booking form is for our in-person Wed class. If you wish to book for our in-person Tue class or online class, please [CLICK HERE])
-----------------------------------------------------------------------------
What to expect at a class:
10 min Intro
15 min Breathing Meditation
5 min Liberating Prayer
30 min Teaching
15 min Guided Meditation on teaching topic
Optional Q&A with Kelsang Rabka after class for those who wish to ask him questions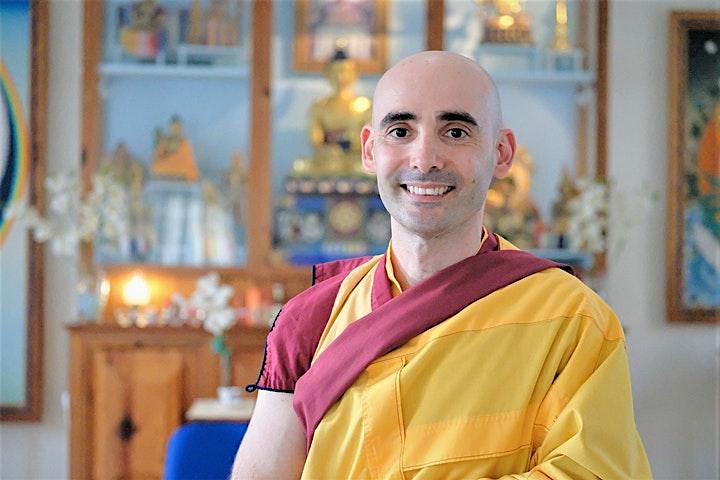 About the teacher:
Kelsang Rabka was appointed as the Resident Teacher of KMC Singapore in mid-2020. He is an Australian Buddhist monk who has been studying and practising Kadampa Buddhism with Venerable Geshe Kelsang Gyatso Rinpoche and his senior disciples for 13 years and has taught both in Australia and the UK.
The clarity and warmth in his teachings have helped many students experience the practical benefits of modern Kadampa Buddhism in their daily lives.
Organiser of Say Goodbye to Stress - 3-week course (Wednesday)
Kadampa Meditation Centre Singapore at 18B Keong Saik Road is a precious sanctuary of peace in the middle of this bustling city.
The Centre offers a full range of meditations, teachings and retreats, which offer practical advice from Buddha to help people make their daily life happier. Study Programmes are also available for those who wish to deepen their understanding or train as Buddhist teachers. With its magnificent statues, tranquil atmosphere and modern Buddhist bookshop it is a perfect destination for anyone seeking peace, relaxation and inspiration.
Modern Buddhism is a special presentation of Buddha's teachings for the modern world that shows how Buddha's advice on wisdom and compassion can benefit anyone in modern society regardless of age, race, gender or faith.