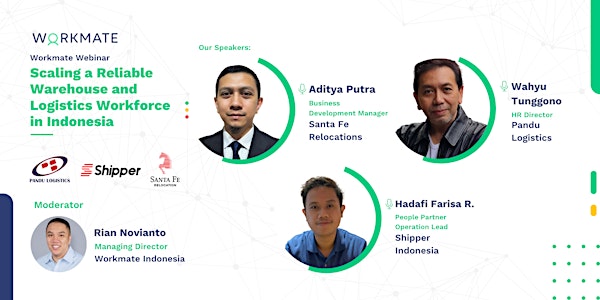 Scaling a Reliable Warehouse and Logistics Workforce in Indonesia
This webinar will cover key strategies to better attract and manage their warehouse logistics workforce, especially the daily workers
About this event
Background
Blue-collar hiring has been largely informal in Indonesia. We're seeing opportunities to engage and educate Human Resource teams and organisational leaders to improve hiring and retention of daily workers.
We're inviting industry experts to join in our virtual webinar sessions to share their insights on latest trends, challenges and solutions from their perspective and experience.
Key discussions points
The warehouse and logistics sector has been growing rapidly especially in the pandemic era, supporting the backbone of many businesses across Indonesia as consumer demand and expectations rise. As warehouses and sorting facilities increase in numbers, so do the surge in warehousing and logistics manpower.
In this webinar, we will cover key strategies and opportunities for companies with a warehousing and logistics workforce. Expect to learn:
Warehouse & Logistics industry landscape
Managing on-demand and seasonal hiring
Strategies to manage worker turnover
Latar Belakang
Perekrutan blue-collar telah berlangsung di Indonesia secara menahun dan bersifat informal. Kami melihat perlunya edukasi pada Human Resources dan para pemimpin organisasi untuk membawa manajemen tenaga kerja (terutama pada pekerja harian) pada arah yang lebih modern dan lebih baik.
Kami mengundang sejumlah ekspert untuk ikut serta dalam sesi webinar virtual kami untuk membagikan pengetahuan, insights, trends, hingga solusi berdasarkan pengalaman mereka.
Poin Diskusi
Industri Warehouse dan Logistik tengah berkembang pesat di beberapa tahun ini, terutama semenjak masa pandemi. Warehouse dan Logistik juga telah menjadi pondasi dari banyak bisnis baik skala besar maupun kecil sejalan dengan meningkatnya permintaan dan ekspektasi konsumer dalam bertransaksi online.
Meningkatkan permintaan di pasar telah membawa industri ini untuk berkembang dan terbukanya banyak fasilitas untuk mendukung pasar, namun dengan kondisi demikian ditemukan tantangan lainnya, yaitu dari segi tenaga kerja.
Webinar ini akan membahas seputar strategi dan kesempatan yang bisa diambil oleh pelaku industri Warehouse Logistik dalam mengelola tenaga kerjanya.
Beberapa topik pembahasan:
Landskap indsutri Warehouse dan Logistik
Mengelola tenaga kerja on-deman dan seasonal
Strategi dalam menghadapi perputaran pekerja atau turnover
*this webinar will be in Bahasa