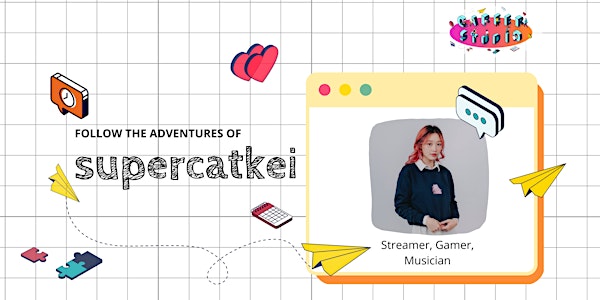 [*SCAPE Career Studio] Follow the adventures of supercatkei, Streamer
Interested in streaming and want to find out how you could possibly make it your future career? Here's your chance to find out how!
Date and time
Sat, 25 Feb 2023 15:00 - 18:00 +08
Location
*SCAPE 2 Orchard Link Singapore, 237978 Singapore
About this event
If you are a youth (18 - 35 years old), with a calling to pursue a creative career in Singapore, join one of our Choose Your Own Adventure (CYOA) Experiences to learn about both the "glam" and "unglam" parts that goes into building a creative career AND get to ask all your burning questions in a cosy, intimate setting. As a bonus, you'll get to create something with our creatives.
--
Your chosen experience is a career interest in streaming with supercatkei.
[More about supercatkei | Variety streamer, gamer and hobby-musician]
Also known as supercatkei on the internet, Denise Teo is Singapore's fastest growing live streamer, with a heart for empowering communities and collaboration, learning and growing alongside creative minds from all over the world.
Through her experiences working in advertising and building startups in Singapore, Tokyo and New York City, she's built a strong foundation in forming communities and engaging with people.
From video gaming and tech to lifestyle and music, Denise is an all-rounded creator that aims to impact others with her authenticity, empathy and a whole lot of laughs.
Denise is also a mentor for aspiring live streamers, sharing her expertise and experience to build up the live streaming industry in Singapore.
--
Choose-Your-Own-Adventure Experience is part of *SCAPE Career Studio organised by *SCAPE. This event is possible by partnering with *SCAPE's collaborators and My Working Title.
If you are unable to attend: Please find someone to replace you for this session and notify *SCAPE as soon as possible. Otherwise, the fees are NON-REFUNDABLE and will go to supporting youth-related programmes at *SCAPE.