Year end school holiday, preserve a piece of nature with these mini flower/seascape keychain pendant! Small class!
About this Event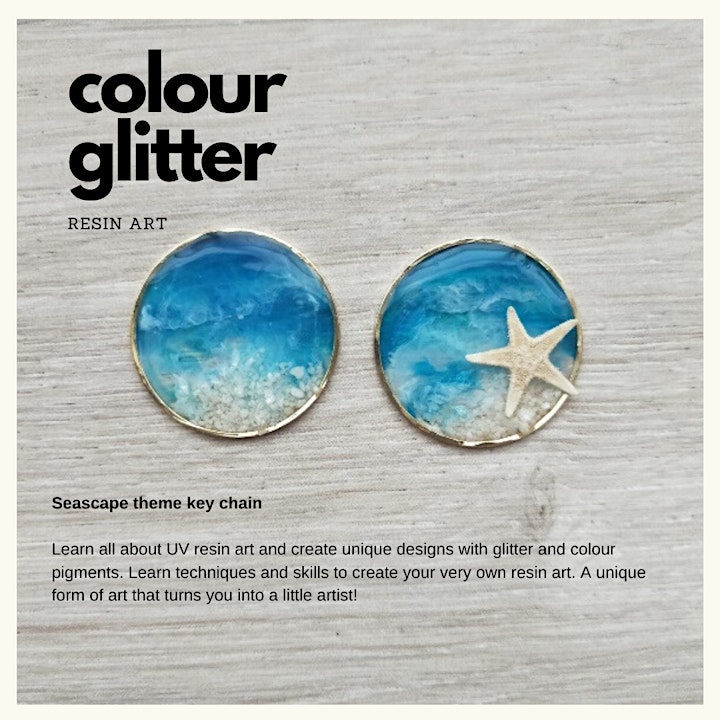 Carry a flower/nature or a seascape with you everywhere you go with these resin pendants keychains.
These pieces are great gifts for yourself or a loved one.
You will get to hear the science and story behind resin, be it natural or synthetic.
And be guided step by step By Fine Art Teacher Jiaen (who started her own Resin and Clay Jewelry brand) in this 2.5 hour introductory session to make 2 pendants.
This is a wonderful opportunity to express your creativity and pick up something craftily fun!
This class is for children from 9-12 years old
Fees: $45 (include materials)
Duration: 2.5 hours (Including break and light refreshment)
Classes will be conducted with minimum 2 students. (In case of cancellation of class due to minimum class not met, you will be informed 1 day before the class and full refund will be given within 1-3 days).
# Private session: If you prefer to form a group with friends, please text us at 8822-5530 to set up another class for you on your preferred dates.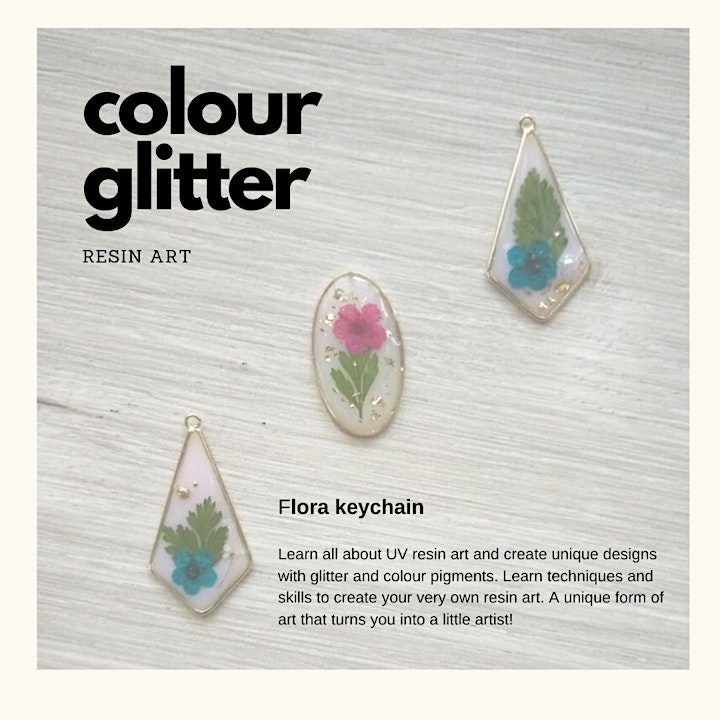 Note:
1. Please be punctual and arrive at least 5 mins before the class starts. We require temperature taking before start of the class.
2. In the unfortunate scenario that attendance is disrupted by Covid or related situations, ticket(s) purchased will be granted a change of date (which must be within 3 months from the original workshop date).
Terms & Conditions
1. Fees for scheduled workshop must be paid fully in advance to secure your booking. Your booking is only confirmed once full payment has been received.
2. Once your booking is confirmed, no refunds or transfers to another class will be given.
3. Payment will be fully forfeited in the event of No Show regardless of unforeseen circumstances. We recommend that you arrange for someone to attend in your place. Please inform us of the person who will be attending in your place prior to the start of the class.
4. The organiser of the event, management and staff or anyone involved with the event will not be held responsible for any mishap due to the incorrect use of equipment/tools or any allergic reaction to the materials used during class. If you have any material allergy, kindly check with us before registering for the class. For any enquiry, please message us.
5. The organiser of the event reserves the copyrights of photography and videos taken in class for future promotional purposes, without prior notice. If you do not wish to be included in such, please email at Mia@socksoftiestudio.com prior to the class. Failure to do so will mean that you waive all rights to Socksoftie Studio/Cozy Up with Craft to use photos or videos that we have captured during the class.