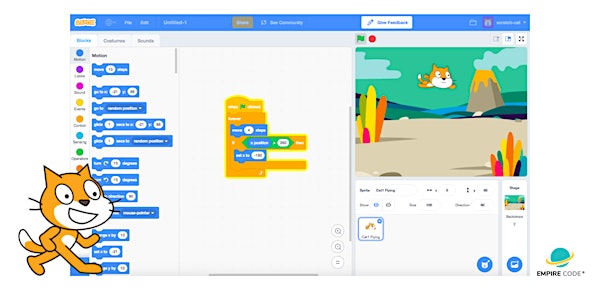 Scratch Online Coding Camp for Ages 8 to 12 (Malaysia)
Create your own sprites of the future and design your dream world through Scratch! For Ages 8 to 12.
Date and time
Starts on Sun, 19 Feb 2023 17:30 PST
About this event
Create your own sprites of the future and design your dream world through Scratch! Scratch is a popular coding software from MIT and provides animation as well as special extensions such as audio and visual sensing. A laptop-only course.
In this 10-hour camp, students will learn:
Code through MIT Scratch
Develop creativity and problem-solving skills through hands-on activities
Object oriented thinking, 2D animations, and storytelling with coding
Tickets
Minimum of 4 students in a class
Camp Fee: RM 550.00
Time: 9.30am to 12pm daily on Monday, Wednesday, Thursday and Friday (no class on Tuesday)
Start dates: Every Monday
20 February 2023
27 February 2023
6 March 2023
13 March 2023
Fees are non-refundable. If your child is sick during the camp, please provide a medical certificate and we will arrange for replacement classes or you may opt to defer the camp to the next school holidays.
For alternative schedules, please Call/WhatsApp on +65 8145 5004.
About the organiser
Learning to code, the language of speaking to a computer, opens doors to personal and corporate growth, with the capacity to improve the quality of lives for many. This is why Empire Code Education Centre teaches computer science to empower everyone with computational thinking and creative skills.
Computational thinking + Creativity = Empowerment + Job Opportunities.
Empire Code Education is a Singapore Ministry of Education (MOE) approved private school, with teachers holding MOE approvals and Microsoft Minecraft education certifications to teach in local and private schools. We provide an individualised approach that caters to one's learning pace, offers flexi-hour packages to suit your schedule and is for ages 3 to 80.
Join us today!