Sales Have Ended
Registrations are closed
Thank you! Your child's registration for the Weekly Coding Class is confirmed! You will get an email from us soon regarding the Virtual Classroom URL Link and your child's login details! In the meantime, should you require more information, do call us at +65 8858 6173 or email us at classes@computhink.com.sg
Sales Have Ended
Registrations are closed
Thank you! Your child's registration for the Weekly Coding Class is confirmed! You will get an email from us soon regarding the Virtual Classroom URL Link and your child's login details! In the meantime, should you require more information, do call us at +65 8858 6173 or email us at classes@computhink.com.sg
Description
Learning never stops with our specially designed Series of Online Coding Classes for Home-Based Learning.


---
Let Your Child Learn to Code from the comfort of home with our Digital Online Coding Classes!
Computhink Kids specialise in Coding Classes for Kids, and we have a complete Coding Curriculum for your child's Learning Needs!
Sign up for the ScratchThinker class and let them have fun while learning an essential skill of their future.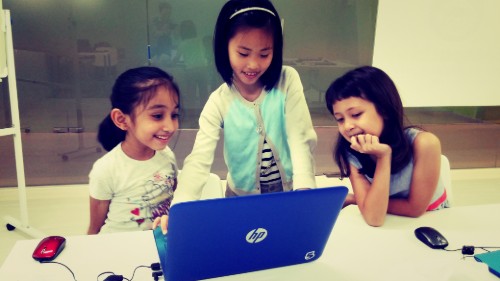 Suitable for all students age 7 to 12. For older students, please join our PythonThinker classes.
---
Online Class Digital Format
Coding Class with Computhink has 4 Main Learning Tools
1. Proprietary Learning Management System
Student Web is Computhink's proprietary system for our student's learning needs, where students will log in every day, and find notes, exercises and short videos explaining concepts for the lessons.

2. Online Virtual Classroom
Virtual Classroom conducted over secure Zoom Web Conferences. Not to worry, we are technology experts and have put in a secure environment to ensure the online safety of your child.
3. Online Coding Platform
(www.scratch.mit.edu) this is where your child will have their own account, and where they will code their daily projects. Projects and accounts are stored online and accessible forever.
4. Online Assessments
Online Quizzes and Assignments – Students will be tested on understanding via online quizzes and assignments.
---
Term 2 Class Schedules (June to October)
1. 18 weekly online lessons. Each lesson is 1.5 hours conducted over Secure Zoom.
2. 16 weekly Coding Challenges.
This is an additional hour of coding challenge. Students will attend one lesson + one challenge per week.

* No lessons or challenge will be conducted on Public Holidays.
Week-Day (Mon-Fri) Class Schedule:
Slot A: 4.00 pm - 5.30 pm
Slot B: 5.30 pm - 7.00 pm

Week-End (Sat-Sun) Class Schedule:
Slot A: 9.00 am - 10.30 am
Slot B: 10.30 am - 12.00 pm
Slot C: 1.00 pm - 2.30 pm
Slot D: 2.30 pm - 4.00 pm
Slot E: 4.00 pm - 5.30 pm


---
Class Fees + Discounts

$960 (18 lessons + 16 challenges, total 43 hours of instruction)


Discounts
*20% discount for new student sign-ups

*20% + Additional 10% discount for Regular/ Ex-students who have attended holiday camps.
*Discounts are only valid for fully online classes.
---


Here's what your child will experience in regular coding classes...
Learn Programming Concepts and how to program amazing games and animations.

Be assessed by our experienced trainer on aptitude and class suitability.

Be guided by our experienced programmer trainer throughout via our proprietary online learning platform.

Be challenged every week with coding scenarios that students have to submit.

...and much much more!
Register for the Online Coding Class and find out how your child can benefit from learning programming online at Computhink Kids!
What will your child learn?
Learn Coding Concepts using the popular Scratch platform (scratch.mit.edu)

Learn specially curated algorithms** and code games and animations

Learn about Brainstorming techniques and Mind-maps to help plan projects.

Each lesson will have 1 scratch project that students will code (and show to their parents)

Suitable for ages of 7 to 12.
** Technical Topics include loops, nested loops, booleans, if-then-else conditions, nested if-then else conditions, variables, operators and more.
Why Computhink?
Small Class Ratio
By keeping the class small, we ensure that each kid gets the guidance and coaching he or she needs to create and bring their imaginations to life through programming. Besides allowing us to get to know your kid better, we also encourage the kids in our classes to also get to know one another and this is better facilitated in a small group setting.
Hands-on activity-based learning
We believe that kids learn best when they do it themselves in a fun environment. That is why we ensure that each kid is given a laptop to work their own respective projects and try their hand in the programming projects and activities. It is heartening each time we see the kids beaming and being proud of themselves when they could get the code to work as they want it to.
Our Teaching Philosophy
This idea that kids will learn anything that they want to when they are given the freedom to create, inspires and drives our teaching philosophy. In this, we are influenced by the work of Sugata Mitra (Educational Researcher) whose research demonstrates the effect that a child's innate curiosity and interest have on learning complex subjects outside the normal school environment. The keyword here is interest. By itself, it is a simple word and concept, easily understood, but not so easy to influence, especially with children.
At Computhink Kids, our approach to this learning conundrum is three-pronged and can be described by these 3 questions by the child:
1. What can you do with coding?
What is possible and achievable by programming? We approach this question by showing examples of fun projects that can be done with programming. These can include small mini-games or animations. In the beginner stage, the child would be unsure of what can be done, and it is helpful to be able to emulate and enhance something that is fun and cool.
2. How can you do it?
Secondly, we guide the children to ask open-ended questions. For example, "How can I make the character walk? Can it jump? Can it fly?" As we answer these questions, this is where the learning starts for the child as we guide them along.
3. What else can you do?
The 1-Hour Trial Computhink class is, well, just the beginning. By the end of the class, the child would have grasped the basics of programming and computational thinking, and we want to show them what else is possible. Students who can put their own ideas and creativity and apply these to their own projects are the ones we are proudest of :)
Follow-on Mastery Classes
Like any learning, learning programming is best done through regular practice and with guidance from our expert programmer teachers.
During this period of Home-Based Learning, Computhink Kids will continue to provide quality programming classes on our proprietary online Virtual Classrooms. These classes will provide regular instruction on computer programming concepts, with fun programs and activities to engage students.
Trainer Profile
David Lee - Master of Technology (Knowledge Engineering) - NUS
David graduated with a Master of Technology from NUS where he explored A.I. technologies and optimisation algorithms.
He has 12 years of experience in the IT industry and has designed and programmed enterprise systems. He was most recently a Project Manager with one of the world's largest investment banks where he managed and executed projects building online and mobile banking solutions.
David is a registered instructor with MOE and has taught and coached students in Changkat Primary, Red Swastika Primary, Teck Ghee Primary, Rulang Primary and Poi Ching Primary (and more!) in Scratch Programming as part of the Code for Fun initiative. He conducts programming holiday camps and regular classes at Computhink @ Kovan.
**Note: We will be taking photographs or videos of the students during the class. By registering your child's attendance, you are granting Computhink your permission to use photographs, videos or other materials produced during the class as part of Computhink's electronic or non-electronic promotional materials.