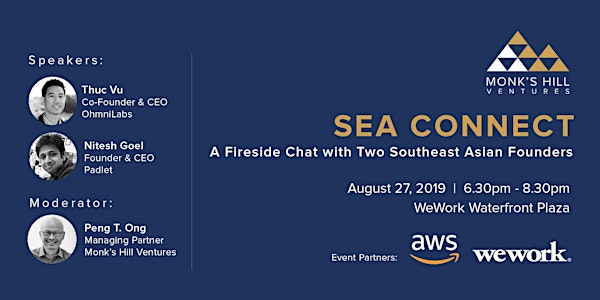 [SEA Connect] A Fireside Chat with Two Southeast Asian Founders
When and where
Location
WeWork Waterfront Plaza 50-60 Francisco Street San Francisco, CA, 94133
Description
Come join our next SEA Connect event to hear from two dynamic Southeast Asian tech founders – Nitesh Goel, Founder and CEO of Padlet and Thuc Vu, Co-Founder and CEO of Ohmnilabs – where they will discuss their learnings and experience building global tech companies, how they were able to scale and hire the right talent.
Agenda:
6:30pm – 7:00pm – Networking
7:00pm – 8:00pm – Fireside chat with Q&A, moderated by Peng T. Ong
8:00pm – 8:30pm – Final networking and close
Light canapes and drinks will be served. Free shuttle from Montgomery BART Station and parking available. Please click this link to see pickup points and departure times.
For more details, please contact Fiona at fiona@monkshill.com

About our speakers:
Thuc Vu, Co-Founder and CEO of Ohmnilabs
Dr. Thuc Vu is the CEO and co-founder of OhmniLabs. OhmniLabs creates its own telepresence robots and provides end-to-end robotics solutions for businesses. Their massive library of tech modules, proprietary ultra-lean development & manufacturing process allows them to take the horizontal approach at unmatched speed, cost, and margin. They see fast growing demand from clients such as ANA, SOMPO, Toppan, Genentech, and Ball Aerospace. Today, Ohmnilabs have provided over 800 robots in 27 countries.
Thuc previously founded Katango and Tappy which were acquired by Google and Weeby.co, respectively. Thuc is originally from Vietnam and has deep expertise in game theory, machine learning, tournament design and multi-agent systems. He earned his PhD from Stanford and a Bachelor of Science from Carnegie Mellon, both in computer science.
Nitesh Goel, Founder and CEO of Padlet
Nitesh is the Founder and CEO of Padlet, an innovative collaboration tool and platform that allows one to create, organize, and share content seamlessly. "Padlet germinated as part of Nitesh's final year research project in 2008. While exploring new UI paradigms, the question he often asked was: "Why do we still reach out for a paper and pen when we want to write something down, even when we might be right in front a computer" (from Yourstory). Padlet is like paper for your screen. Users can upload a video, record an interview, snap a selfie, write and upload documents. Today, Padlet has been downloaded by millions of users and was previously part of the Y Combinator program.
Prior to Padlet, Nitesh was a software engineer for SigFig. He graduated National University of Singapore with a degree in Computer Engineering.
Peng T. Ong, Co-Founder and Managing Partner of Monk's Hill Ventures (moderator)
Peng is a veteran entrepreneur with over 25 years of industry experience as both an entrepreneur and an investor in Silicon Valley and in Asia. He is currently the Co-Founder and Managing Partner at Monk's Hill Ventures – an early-stage tech Southeast Asian venture capital firm. Prior to Monk's Hill Ventures, he was a Venture Partner at GSR Ventures in China. The firm is known for its successful investments in companies like Didi Chuxing and Qunar. As an entrepreneur, he co-founded a series of successful companies today including Electric Classifieds (today known as Match.com), Interwoven and Eccentuate, which combined today generate over USD$1 billion in revenues annually.
About SEA Connect
SEA Connect is an initiative by Monk's Hill Ventures that aims to build and educate our community on trends and developments in tech in Southeast Asia. Each quarter we feature industry tech leaders and entrepreneurs from Southeast Asia to share their knowledge and insights into the region. Previous speakers include Derianto Kusuma, Co-Founder of Traveloka, Vu Van, Co-Founder of ELSA, and Lee Sult of Horangi. The event is attended by Founders, entrepreneurs, tech enablers, young tech talent and anyone interested in all things tech in Southeast Asia.