A holistic and stress free approach to preparing to conceive with Ms Kong Choon Yen, Ms Rimi Yoshida and Mr Andy Wee
About this event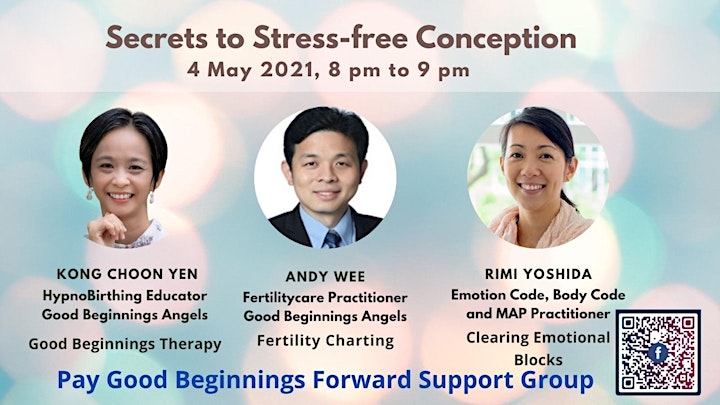 Pay Good Beginnings Forward, FertilityCare Singapore and Rimi Yoshida presents
"Secret to Stress-free Conception"
In conversation with Ms Kong Choon Yen, Ms Rimi Yoshida and Mr Andy Wee
Calling all couples preparing to conceive and are looking for a stress free journey, learn the best practices you can adopt to achieve pregnancy. Bring your questions!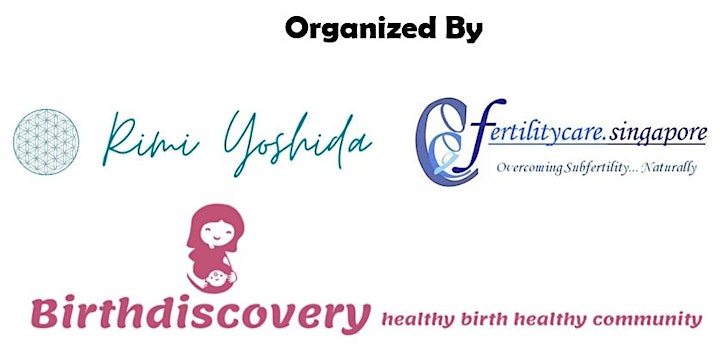 Ms Kong Choon Yen, Birth Expert
Yen is specialised in HypnoBirthing and Good Beginnings. Yen will share her knowledge on removing both physical toxin and emotional baggage for partners so that they can best prepare for parenthood.
Ms Rimi Yoshida, Certified Emotion Code and Body Code Practitioner
Rimi is a Certified Emotion Code and Body Code Practitioner in practice since 2013. Trained in Choice Theory, she is Reality Therapy Certified, a Certified Jikiden Reiki practitioner, a Certified MAP Method™ Practitioner and a Positive Psychology-based personal coach in training. She has worked with individuals from young to old and experienced a wide range of issues from physical, emotional, mental to spiritual. It's a blessing to be able to share my work with many others, including you.
My guiding vision is to build people who can uplift the world. To do that, I'm committed to helping you let go of the baggage that doesn't serve you, recognize your own power and enable you to lead by example. Because I truly believe in your potential! You deserve to live a vibrant life that's healthy and happy and to share your gifts with many others.
Mr Andy Wee, FertilityCare Practitioner
Andy is specialised in guiding couples to understand their cycle using the Creighton Model System which can be combined with NaproTechnology western medical treatments to help couples achieve their dreams for a baby. He has been journeying with many couples in the last 14 years.
About Pay Good Beginnings Forward
In support of United Nation's 17 Sustainable Development Goals in the area of Health and Wellbeing, Goal No. 3, Pay Good Beginnings Forward Movement began in June 2020 to bring consciousness to everyone.
This movement is brought together by a team of Holistic Practitioners/Coaches and Birth Workers to share tips, knowledge and skills with married couples, expectant mothers, expectant fathers, and families with babies (those who reside in Singapore only) to provide conscious choice in planning for conception, healthy pregnancy, healthy birth and postpartum health leading to good beginnings for the family.