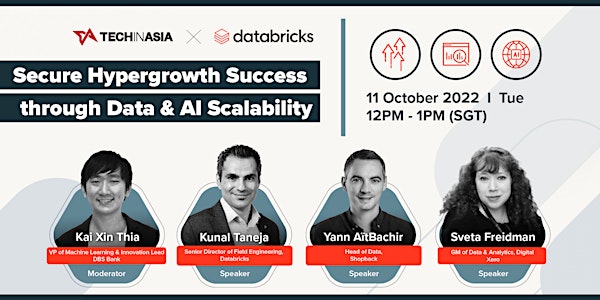 Secure Hypergrowth Success through Data & AI Scalability
Learn more about the importance of data scalability, open source flexibility and talent pool while achieving company hypergrowth.
About this event
Globally, there has been a significant increase in hypergrowth companies in recent years. In contrast to other firms that have slower and more stable growth rates, hypergrowth firms concentrate on different challenges and priorities.
Over the years, hypergrowth companies have faced consistent challenges in remaining relevant and solvent. According to research, their primary growth challenge is talent, and they face a unique set of challenges when it comes to secure data access. Their top priorities are to drive rapid innovation, expand their customer base, and increase revenue. As a result, finding and implementing the right data access framework is critical to minimizing inside threats and preventing catastrophic outcomes as businesses grow rapidly.
For any organization to tackle hyper-growth, it means not only taking on additional challenges, but also opening the door to a number of accelerators of organizational performance. At a high level, there is a strong need to address a company's scalability, flexibility, and talent pool with the right approach to secure growth and success.
Join us on October 11 to gleam insights from the panelists as they highlight the importance of time, scalability and flexibility in the hyper-growth landscape. They will deep dive into the fundamental differences between traditional enterprises and hyper-growth companies and how that relates to the current economic outlook as a segue into what is to be expected moving forward into 2023 and beyond.
Speakers:
Moderator:
Kai Xin Thia, VP of Machine Learning & Innovation Lead, DBS bank
Panelists:
Who should attend:
If you're currently working as one of the following profiles—this event is definitely for you:
Business Owners (Founder, Co-founder)
Decision Makers/Influencer/Evaluator (CEO, CMO, CXO, Founders, Managing Partner, President, Director, Principal, Manager, Regional Head, VP/Head of---, etc.)
Data leaders across Data platform, Data Analytics, Data engineers, Data scientists,
Tech decision makers across Cloud & solution architects, AI strategy, Machine Learning
About Tech in Asia
Tech in Asia (TIA) is the largest English-language technology media company that focuses on Asia. From the latest news and hottest trends to the boldest start-ups and strongest titans, TIA covers everything tech in the region. The company aims to build Asia's tech and start-up community by bridging the gap between businesses and the information, talent, and connections they need.
About Databricks
Databricks is the Lakehouse company. More than 7,000 organizations worldwide from Fortune 500 to unicorns — including Comcast, Condé Nast, H&M, Stripe, Atlassian and Grab — rely on the Databricks Lakehouse Platform to unify their data, analytics, and AI. Databricks is headquartered in San Francisco, with offices around the globe. Founded by the original creators of Apache Spark™, Delta Lake and MLflow, Databricks is on a mission to help data teams solve the world's toughest problems.