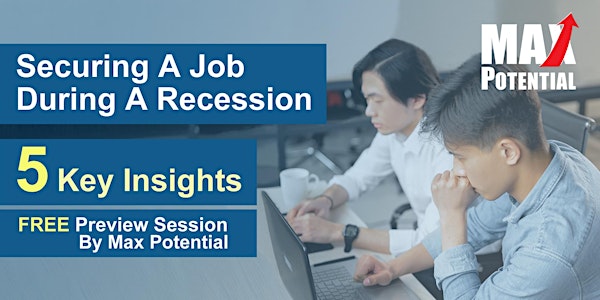 Securing A Job During A Recession - FREE Info Session
Are you looking for a job? A recession is predicted in the next 12 months. How do you secure a job during a recession?
About this event
Are you looking for a job? Experts share that a recession is looming and with high inflation, many companies may soon be retrenching employees. How do you secure a job during a recession?
Max Potential - A revolutionary job search and career success coaching service, leveraging on decades of experience partnering Global and Fortune 500 MNCs in talent search and career management.
Join us in this FREE preview session where we share invaluable insights and best practices on how to secure a job during such precarious times including:
Are You Targeting the Right Industries?
How Do You Position Yourself As The Right Person For The Right Job?
In Times of Recession, Do You Lower Your Expectations?
Who Knows You? Networking Now For Tomorrow
How Do You Stand Out From The Rest?
Seats are limited so register now to secure your free ticket to this online session.
NOTE: A separate email with event ZOOM log-in details will be sent to you 1 week before the event date. Please look out for that email and check your junk/spam mail folder in case do you not receive it.