How to tell a story from a seed or an idea and take it with you to own the stage. This is a six-week storytelling course plus a class show.
About this Event
Want to learn how to tell a story from the creator of What's Your Story Slam? Of course, you do!
Anna Ong will teach you how how to take personal experiences from your life and create stories that are universal and identifiable for an audience. You'll be surprised at how engaging your personal stories can be! Whether you're a What's Your Story Slam Champion in the making, a writer seeking to fine-tune your narrative skills, a start-up founder looking to pump up your pitch, or someone who wants the confidence and ability to get in front of people and be heard -- this class will help.
In this in-person class, you will learn the basic elements of telling a narrative story, how to take a crowd by surprise and make them care, how to be real and truthful on stage, and how to discover and communicate the real meaning behind your experience. This class will make public speaking a safe and enjoyable experience.
Classes will include verbal and written exercises, examples of performances from some of the finest storytellers, and various techniques and approaches to prepare yourself for the performance of your story.
What you'll get out of the class: at least one polished, six-to-eight minute story -- which could be a What's Your Story Slam winner, the beginning of a one-person show, or a personal essay -- and the fundamentals needed to develop future stories.
The class concludes with a graduation performance where you will perform your personal story in front of a live, super-supportive audience (max of 50 guests).
Max number of participants : 10
Class Schedule - Every Wednesday from 1900 to 2100
March 17, March 24, March 31, April 7, April 14, April 21
Class show April 28 @ The Projector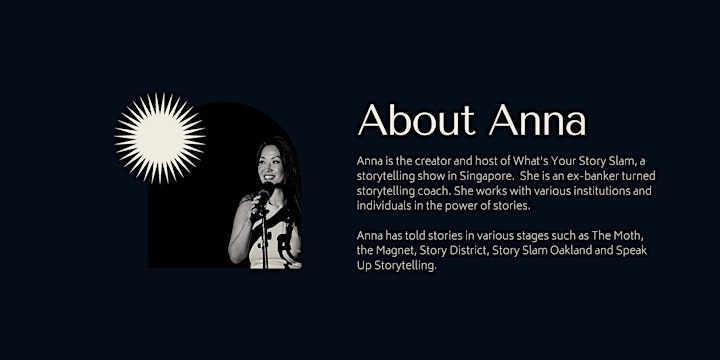 Hear it from previous participants of Anna's Storytelling Courses
"I have always loved listening to and telling stories. The storytelling workshop conducted by Anna Ong truly played on my interest and skill. During the Covid-19 lockdown, I decided to hone my skills and also learn something new. This virtual workshop was just what I needed!
Anna is a dedicated coach. She invested her time and energy in each and every one of us. Our stories evolved wonderfully over the course of 4 weeks, culminating into a successful showcase.
Thank you, Anna! You are amazing."
-NC
"Anna is a great coach. I was inspired by her personal stories and storytelling style. Her comments helped me shape my story into a fun, short and lively personal narrative to share in a live show. She is also an amazing entertainer, making the audience feel part of the show from the moment they join."
-AG
"Anna creates a very comfortable and safe environment for her storytelling classes. She puts in a lot of thought to craft a lesson that is both interesting and relevant to people looking to apply storytelling to their work. Despite the varying level and background of the participants, she is able to work off everyone's dynamics and adapt the class so that everyone gets a lot out of it. Most of all, it was very enjoyable and Anna is never without a smile or good humour. I recommend this class for anyone who'd like to develop their narratives, especially in a corporate environment as Anna's extensive work and life experiences and her intuitive teaching will help you put form to your stories."
-LC
"Anna is a magic worker. I've never stood in front of an audience to share a story before. Anna went out of her way to make sure it'll be successful and that it's comfortable for me. She helped me by choosing a good story, by sharing the best method in story-telling 101 and by coaching me to curate a beautiful and impactful story."
-GL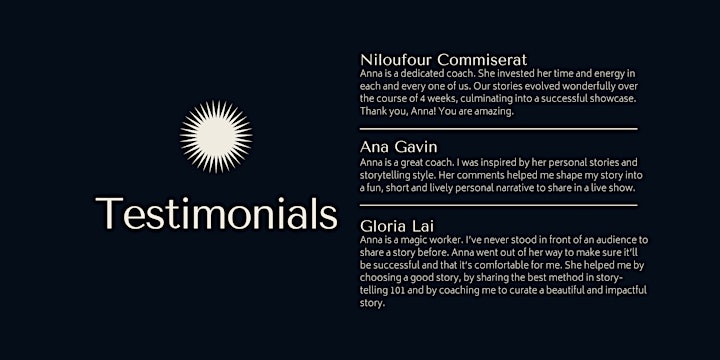 COVID 19 Safety Measures
WYSH (What's Your Story Huh) is committed to reviving the storytelling scene in a safe and responsible manner. This event will comply with all Safety Management Measures as specified by the Singapore Tourism Board. Such measures include, but are not limited to, the following:
Found8 Staff will conduct temperature checks and SafeEntry check-ins upon entry to Found8.
Participants are to be seated with 1m distance between them.
Participants not feeling well are strongly encouraged to stay at home and rest.
WYSH & FOUND8 reserve the right to remove any person who they deem to be breaching Safety Management Measures from the premises.