OTR YOUth Matters presents our bi-annual Mental Wellness Festival 2021! Youth-centric programs organised by Youths. All are welcome!
About this event
Self Expression through Theatre
Join us on a journey of storytelling, improvisation, performance and self-expression through a series of simple acting exercises and theatre techniques. Theatre is a safe space for you to connect with yourself and others on a deeper and more immediate level through the arts. This process will hone social-emotional skills and help you to cope with uncertainty, manage anxiety and boost creative thinking. Outside of the workshop, you may use these techniques to practice mindfulness in your daily life.
Takeaways:
Learn a method of self-expression through acting and theatre techniques
Allow yourself to connect and understand your own emotions more deeply
Practice mindfulness through acting and theatre
For this workshop, you will need:
Some space for movement
An Open mind (:
Access to Zoom/ working webcam
Pen and paper
More information will be given to registered participants via email.
Workshop Dates:
🗓18/12 (Sat) | 1.45pm-3.00pm
About the Facilitators
Tejas Hirah
Tejas is a returning facilitator for "Self Expression thru' Theatre", which was popular and well received back in MWF June 2021.  He is a dancer and youth theatre practitioner currently reading his second year, BA(Hons) in Acting at LASALLE College of the Arts. He has received his acting, performance training and experiences from a young age, appearing in public programs and community events. 
Acting has always been a form of self-expression for Tejas as well as his passion for dance. As an alumni for School Of the Arts Singapore (SOTA), he led a social service project working with seniors at Thye Hwa Kwan Moral Care Centre, using the arts as social intervention. Following that, he conducted a drama-based workshop for children from the children's cancer foundation as part of a 3-days arts based camp. Children were introduced to the arts as a tool of expression, taught improvisational techniques and basic scene building. He has since continued to work on merging the arts and social causes projects with other like minded youths. He also aspires to bring theatre to the heartlands of Singapore, and to make it more accessible.
John Chow
John is currently a philosophy major at Nanyang Technological University (NTU). He graduated with a Diploma of Applied Drama and Psychology, from Singapore Polytechnic where he developed his passion for Applied Drama. He truly believes in the power of the arts, not just theatre or applied drama, as a tool for rehabilitation and mental wellness.
Previously, John did an internship at Grace Orchard School, a school for students with special needs. There, he realized his passion is working with children to realize their full potential. He is someone with many interests dabbling in boxing, skateboarding and wakeboarding.
Check out more about OTR and the YM initiative below ⬇️
About OTR YM Mental Wellness Festival 🌈
Series of experiential workshops and activities to understand yourself and your mental wellbeing better! Invite your peers to join you on this journey or get to know about others too.
What you can expect from this event:
Unwind from the fast-paced world
Express yourself through music and arts
Connect with nature
Gain insights from experts
New tools and knowledge
Each workshop is approximately 60-75 minutes.
When registering:
Step 1: Get to know what activities we have in store for you
Step 2: Choose what activities you would like to attend
Step 3: Register by selecting the events and time-slot you would like to join for the event. (Please look at the time and date carefully! 👀)
Step 4: Get ready with materials needed for the event workshops
Step 5: Follow us on our Socials and be on our mailing list (details below)
Instagram at @OTRSG / Facebook @overtherainbow.sg / Telegram @OTR Youth Matters
Visit our website for more about us, resources, other programs and services @ www.overtherainbow.sg
Know someone who needs a listening ear? Go to otrlistens.net
Check out our other workshops in this series presented by OTR YM Mental Wellness Festival:
Playing A Part. Paying It Forward
These workshops are provided Free-of-Charge. Participants can choose to make a monetary contribution of any amount.
Your donation goes directly to off-set costs involved in putting one or more of these together - workshops & events, marketing activities include Rainbow Connection publication and other outreach collaterals (e.g. OTR-wellness brochure), the development of OTR Listens platform, and training.
PayNow UEN: 201022300R (Wholetree Foundation Limited) ,OR please visit our campaign at Give.Asia: https://give.asia/campaign/you_are_not_alone#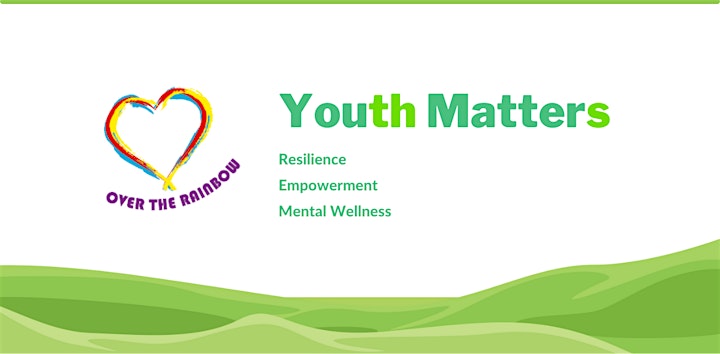 YOUth Matters by Over-The-Rainbow
Launched in July 2019, the YM initiative trains youths to become holistic change-makers and provide a canvas for volunteers to apply what they have learned and actualise the change they wish to see in society with community engagement goals. A key differentiator from other projects is that they are co-created, organised and executed by youths, for youths. Programs presented by YM are designed to empower youth in the communities with tools for self-care and mental wellness.
To-date, YOUth Matters programs has trained over 40 youth ambassadors and reached more than 300 young people across the island from schools, youth centres to community events. Our first year was in part funded by the National Youth Council's National Youth Fund. Together with our youth change-makers, and with your help in one way or another, we can continue empowering all youths in their mental wellness journey!
Organiser of Self-Expression thru' Theatre @MWF2021 Dec
Over The Rainbow - One-stop hub for youth mental wellness- transforming youth mental wellness for the 21st century.
Our mission is to transform mental wellness for the 21st century, by:
Propelling mental wellness to the top of life's priorities;
Creating a community based on the timeless wisdoms of love, compassion, truth, harmony, generosity, joy and service;
Empowering young people on their mental wellness journey via holistic self care and a supportive community – to overcome life challenges, live life with purpose and passion, and fulfil their life potential as human beings.
We envision a world where mental wellness is a top life priority, and where every young person is given the opportunity to realize their full potential via the journey of self-discovery, healing and transformation, to achieve true happiness and optimal wellbeing.