Description
Time: 10am to 6pm | 80% hands-on, small class training, max. 8 participants
Course code on SkillsFuture Directory:
CRS-N-0041548
Do you own a website, or looking to build one?
If you do, this is an ESSENTIAL course that will help you understand what is SEO all about, and what is needed for your website to rank on Google Search Engines.
One of the key things we ensure at all our public course runs is to keep our classes small, to a max. of 8 pax per class.
You can also expect 80% of the course curriculum to involve hands-on activities.

So you might ask, what you will take away from this hands-on workshop?

What you will take away from this hands-on workshop?

In summary, here's what you will learn:
• Discover 15 ways you improve your website's SEO ranking
• Identify a SEO-friendly web structure every website needs!
• How can you convert a WEBSITE TRAFFIC to a LEAD?
• SEO Keyword Strategy, Google Keyword Planner, Google Trends and Google Search Console
• Introduction to Google Analytics & How Google Analytics helps you in SEO
• Why do you need a landing page when you have a website?
• How can you build landing pages for FREE and use it effectively to generate LEADS for your business?

New & Additional Bonus Content:
• Google Search Console
• Google Maps Optimization

Build the foundation for your 24/7 sales person (aka website) for greater results of your SUCCESSFUL SEO Strategy!

By the end of the workshop, participants will be able to take at least 10 immediate steps and improve their website's SEO ranking on Google.

Participants will also be able to speak the SEO and SEM language to the Web Agency and Developer managing their company website's SEO & SEM efforts!


COURSE OUTLINE

1. Introduction to UNLEASHING the POWER of Internet Marketing via:
• Key Principles for an SEO Friendly Website
• Page Titles, Meta Keywords, Meta Tags
• How does Google Rank Websites & Why SEARCH traffic is important

2. Fundamentals to Internet Marketing
• What is Internet Marketing?
• What is SEO?
• What is SEM?
• Learn about a typical CUSTOMER/BUYER JOURNEY on the internet
• How can you help your potential customer purchase with you?
• Map your CUSTOMER/BUYER JOURNEY with your business

3. Guide to Internet Marketing for Websites
• 15 strategies to being more SEARCHABLE online
• Top 5 Fundamentals to Internet Marketing
• How long will it take for Google to rank my website?
• Introduction to Sitemap (and what a sitemap is)
• Introduction to Google Search Console

4. Google Keyword Planner: What is it? How to use it?
• Personal or Company Gmail Account is required to access this
• Whether you're exploring SEO or SEM, Google Keyword Planner helps you understand the demand of each keyword, and prioritise the keywords you would like to target and include in your content.


5. Introduction to Google Analytics Basics
• How to create FREE Google Analytics account with GMAIL
• Statistics to look out for in Google Analytics for SEO purposes
• Introduction to Google Trends
• Ways to Title a Blog and Video Contents
6. How can you get more CONVERSIONS on your website?
• How can i convert my website traffic into leads?
• What are pop-ups and how can we use them effectively?
• Case Study of pop-ups for ideas
• Brainstorm and create a FREE pop-up for your website

7(a) Create a landing page to collect more leads from your Social Media Ad Campaigns
• What are Landing Pages?
• Why do you need a Landing Page when you have a Website?
• How to build and use Landing Pages fo FREE and effectively for your business

7(b) Creating a Landing Page for your Business: Hands-on activity
• Step by Step Landing Page Creation with Trainer Demo on MailerLite/MailChimp
• Brainstorm about your Landing Page: Consultation with Trainer
• Create your very own Landing Page: Hands-on Activity

7(c) Final Q&A with Trainer
What you will need to bring to class:
• Laptop, charger
• Mouse, mouse pad
This is a Certificate Workshop.
Receive a Certificate of Completion upon completion of the workshop from Sky Digital Agency.
As seats are limited due to small class size, we recommend for participants to register early.
Ticket options:

(a) Peatix (includes Peatix fees)
(b) SkillsFuture Credits :
Email us
(c) For Corporates, you can
email us
to arrange for payment. Payment needs to be received 7 working days prior to course start date, otherwise, employees will need to pay first and claim from company.
https://youtu.be/dvvpUZq7miM
This workshop is SkillsFuture Credit Eligible.
Who can apply? - Singaporeans aged 25 years and above.
As of Jan 2016, every Singaporean (25 years old and above) has $500 SkillsFuture Credits. No cash is required, if you have sufficient SkillsFuture Credits,
Course code on SkillsFuture Directory: CRS-N-0041548
Email us at skillsfuture@skycrm.asia for payment instructions to pay us directly with your SkillsFuture Credits.

Details we will need for SkillsFuture Credit participants:
1. Name as in NRIC:
2. NRIC:
3. Mobile:
4. Email:
5. Home Address:


- - - - - - - - - - - - - - - - - - - - - - - - - - - - - - - - - - - - - - - - - -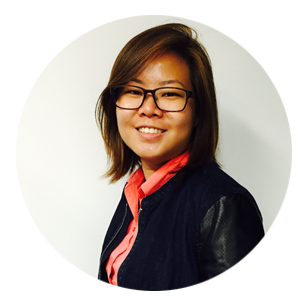 Charmaine is the Creative Director of Sky Digital Agency and The Good Designers.
Being a designer by training, she designs, consults and trains individuals in digital marketing. She started with small group trainings on Facebook, SEO and Email Marketing topics in early 2015.

Till date, she has curated more than 15 different creative topics and key digital marketing courses including Instagram marketing, Branding with IGTV videos, Social Media Marketing BootCamp, Integrated Content Marketing, Digital Marketing Sales Funnels & more.

Till date, she has conducted more than 1,500 hours of training, and she is an ACTA Certified Trainer.

Charmaine makes learning interactive, practical and fun. She enjoys breaking down complex topics to help participants gain better understanding and find success in the digital marketing campaigns with FREE digital tools available in the market for Individuals, Entrepreneurs, Adult Educators, SME marketing teams and Startups to leverage on.

Passionate about training, and helping others through training, Charmaine strongly believes in paying it forward to the community will her knowledge and skill sets. Aside training the public and corporates, she also trains youth-at-risks (in collaboration with MSF) under The Good Designers.

Get connected with Charmaine on LinkedIn: http://bit.ly/charmaine-linkedin
Follow @skydigitalagency on Instagram
Follow @thegooddesigners on Instagram

Other SkillsFuture Credit Eligible Courses under Sky Digital Agency
✓ MailChimp Email Marketing for Beginners
✓ Instagram Marketing for Beginners
✓ SEO Internet Marketing for Beginners
✓ Integrated Content Marketing Strategy Course
✓ Facebook Marketing Masterclass and Chatbots (2 days)
✓ Social Media Marketing BootCamp for Business Owners
✓ Skyrocket your sales with Facebook Marketing for Business and E-commerce Owners (2 days)
✓ Explode your sales with MailChimp Email Marketing for Business and E-commerce Owners (2 days)
✓ Integrated Digital Marketing Strategy & Sales Funnels for Beginners
✓ LinkedIn Marketing and SlideShares Content Strategy (New!)

Enquire with us at workshops@skycrm.asia

Connect with us on:
Facebook | Instagram | YouTube | Website

WE HAVE PARTICIPANTS FROM THE FOLLOWING ORGANIZATIONS JOINING US: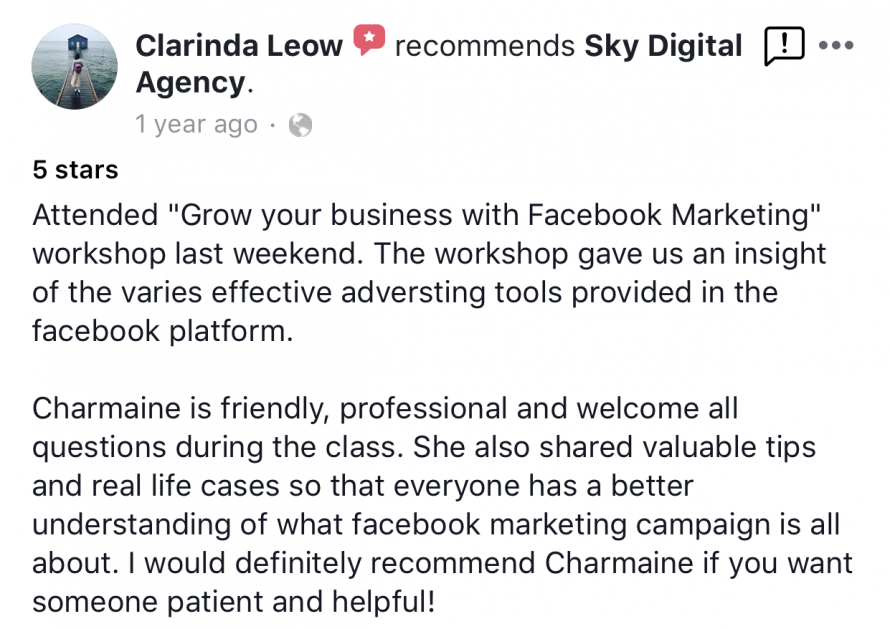 - - - - - - - - - - - - - - - - - - - - - - - - - - - - - - - - - - - - - - - - - -

FAQs
1. Who can i contact should i have questions?
You may e-mail us at workshops@skycrm.asia


2. Is there a minimum class size to proceed?
Yes. We require a minimum class size of 4 people to proceed with the class.
In the event that there are insufficient participants, we reserve the right to reschedule the class. Under such circumstances, we will inform you no later than 2 to 5 working days before the event.
3. Where is the venue of the workshop?
6 Raffles Quay, #15-00, Singapore 048580
Nearest MRT: Raffles Place, take exit "i". The building 6 Raffles Quay is just beside Ascott at Raffles Place.
Our office is beside Hong Leong Building, 3 mins walk from Download Line, Downtown Station, exit A.

4. I'm driving, where can I park?
There is parking space at the building 6 Raffles Quay itself at $2.50 per 30 min block.
Alternatively, you can park at Telok Ayer's Public Car Park.

For weekend classes, we recommend our participants to park at SGX Centre, at $3 per entry.
For Corporate Training Enquiries, please email us at trainings@skycrm.asia on your requirements, and we will be in touch with you within 2 working days.