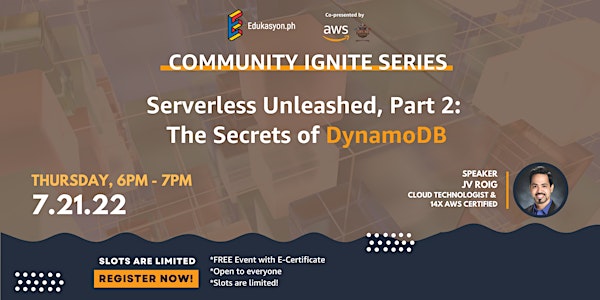 Serverless Unleashed, Part 2: The Secrets of DynamoDB
We heard you and we will be having a Part 2 about Serverless Unleashed, The Secrets of DynamoDB
About this event
Returning for our 49th CIS Episode is JV Roig!
JV is a Cloud Technologist and a 14x (Yes that's right) AWS Certified Professional ready to share everything serverless this Thursday
He is also an award-winning IT professional, a cloud technologist, and an expert in software, hardware, networking, and security. Summa cum laude twice (Master's and Bachelor's).
He used to be a consultant, but now he just does Cloud-related stuff. JV is definitely interested in serverless technology.
He likes to take hardcore challenges and took both of the AWS Pro-level certification exams together in a single day (Solutions Architect Professional + DevOps Engineer Professional). These two are among the toughest Cloud certifications in the world.
Don't miss this one out and invite your friends!
Registration is FREE but tickets are LIMITED