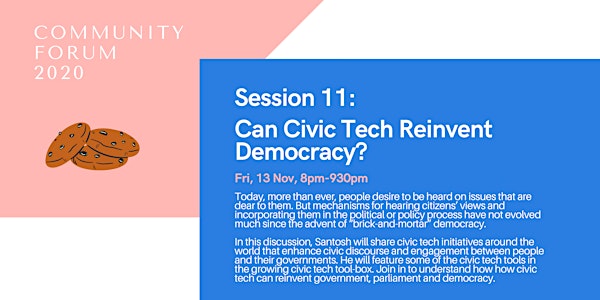 Session 11: Can Civic Tech Reinvent Democracy?
.
About this event
Today, more than ever, people desire to be heard on issues that are dear to them. But mechanisms for hearing citizens' views and incorporating them in the political or policy process have not evolved much since the advent of "brick-and-mortar" democracy.
In this discussion, Santosh will share a list of civic tech initiatives around the world that enhance civic discourse and engagement between people and their governments. He will feature some of the civic tech tools in the growing civic tech tool-box. Inspired by vTaiwan, Santosh, an ex-civil servant, is part of the OPPi team, which aims to improve the quality of civil discourse in Singapore by bringing the voice of the people into parliament and the civil service. By drawing parallels to digital disruption and p2p revolutions in banking, real-estate, transportation, retail, gaming, media and social networking, Santosh will paint a picture of how civic tech can reinvent government, parliament and democracy.
*Definition: Civic tech refers to technologies that enhance the relationship between people and government.