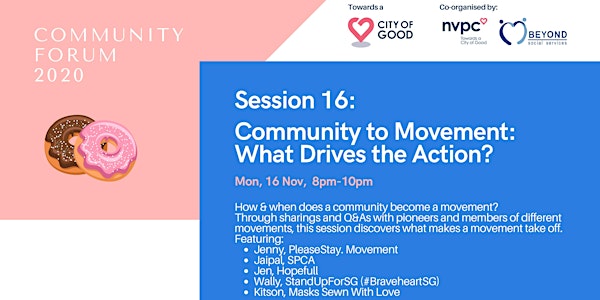 Session 16: Community to Movement: What Drives the Action?
.
About this event
How & when does a community become a movement?
Through sharings and Q&As with pioneers and key leaders of various communities, this session will delve into the journeys taken by these communities to discover what makes a community a movement. We'll hear from the pioneers who saw what others did not see and put a spotlight on it, involving other people along the way to take action for a common good.
Themes covered in this session include:
[Their Story] Beginnings and inspiration
[Role of emotions] What were the emotions featured in their journey and what is the role of emotions in propelling a movement?
[Present] How are things now, and how do you feel about where things are at now?
[Movement vs Community] What is a movement and how does a community/ initiative become a movement?
[Future] Where do they see/hope to see their movement going?
[Sustainability] How could the movement and its momentum be sustained?
[Tips/Advice] What tips/advice would they give someone who wants to see their initiative, cause or conviction become a movement?
Featuring:
Jen Goh - As Co-Founder and Partnerships Lead at Hopefull, Jen works alongside a team of glass-half-full folks to empower children and youth by expanding their possibilities. Jen also plays golf for Team Singapore and hopes to eventually build a business for good.
Kitson Lee - Kitson is a Grassroots Leader for Masks Sewn with Love, a community project to sew reusable cloth masks for the community by the community. These masks are being distributed to the vulnerable groups in shelters and homes, cleaners and domestic helpers, and vulnerable kids and their families within the respective estates.
Wally Tham - Wally Tham is a filmmaker, coach and certified Organizational Development practitioner. He loves Singapore and designs public interventions when his country gets grumpy to address issues of race, inequality and environment.
Jaipal Singh - Jaipal has been involved with animal welfare in various ways for nearly 20 years, currently as the executive director of SPCA. The animal welfare movement has a very long history in Singapore, even predating independence.
Jenny Teo - Jenny is the Founder of Stigma2StrengthSingapore (In Memory of Josh Isaac), an educational initiative that applies a more unconventional approach in addressing the topic of suicide from a "lived-experience" through the sharing of evidence and research-based narratives and to give hope for recovery. Jenny is also the Co-Founder of the PleaseStay. movement, an advocacy group for suicide awareness and prevention.
This event is co-organised by NVPC Community Matters & Beyond Social Services :)