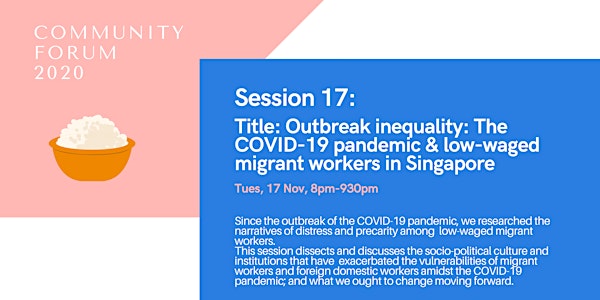 Session 17: Outbreak Inequality: COVID-19 and low-waged migrant workers
.
About this event
We know that migrant workers in Singapore are disproportionately affected by the COVID-19 pandemic because 90% of all infections are among them. However, statistics say just that. This session hopes to give space for migrant workers' voices to shape and share their readings of the COVID-19 pandemic. We hear about them through mainstream discourses and civil society organizations, including all their support from frontline workers. However, less known are the community efforts of migrant workers themselves in navigating the pandemic.
In this session, join Saif, a poet and writer– as he reads and shares his poetry on his experiences with the COVID-19 pandemic. Together, we explore the unheard voices and agency of migrant workers in this pandemic.
This session is facilitated by:
• Saif Tomal had arrived in Singapore in 2010 but he had been writing long before that. Most recently, his first book titled 'The defeated dragonfly and the end of suffering' was published in Bangladesh's esteemed 'International Mother Tongue Language Day Festival' in 2014.
• Satveer Kaur who has been listening to and writing about the narratives of migrant workers through her research.
• Samira Hassan who heard and wrote on the experiences of migrant workers as a caseworker during the pandemic. She is current a penultimate student reading Global Studies at NUS.
• Yeo Qin-Liang who has had the privilege of speaking to migrant workers during the pandemic. He is current a penultimate student reading Philosophy, Politics and Economics at NUS.