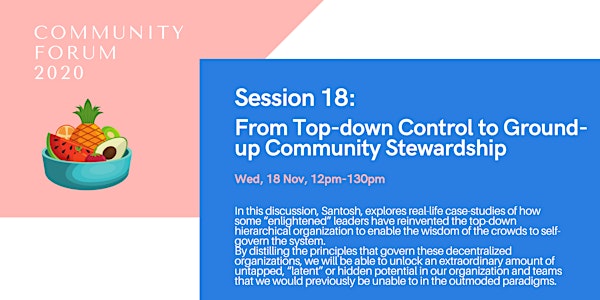 Session 18: From Top-down Control to Ground-up Community Stewardship
.
About this event
Most organizations and institutions of the "brick-and-mortar" era are top-down and hierarchical in nature. Power is concentrated in the hands of a few who make decisions on behalf of the rest. Many attempts at decentralizing decision-making and resource-allocation to shift power from the top to across all levels have failed in practice for very large organizations.
In this discussion, Santosh, explores real-life case-studies of how some "enlightened" leaders have reinvented the top-down hierarchical organization to enable the wisdom of the crowds to self-govern the system. By distilling the principles that govern these decentralized organizations, we will be able to unlock an extraordinary amount of untapped, "latent" or hidden potential in our organization and teams that we would previously be unable to in the outmoded paradigms.