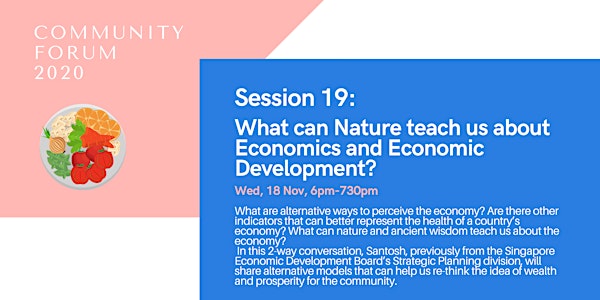 Session 19:What can Nature teach us about Economics & Economic Development?
.
About this event
Newton, Descartes, the Industrial Revolution's production line and classical economics have influenced us to view the economy as a well-oiled machine. A machine that can be modeled, simulated and optimized. A machine that is predictable and controllable. However the prevailing view of economics and economic development that governs the way we make decisions as a society is highly reductionist, linear, extractive and damaging to our collective social, cultural and environmental fabric. The over-emphasis on GDP growth has led us to a situation of high income inequality, environmental damage and social fragmentation.
What are alternative ways to perceive the economy? Are there other indicators that can better represent the health of a country's economy? What can nature and ancient wisdom teach us about the economy? In this 2-way conversation, Santosh, previously from the Singapore Economic Development Board's Strategic Planning division, will share alternative models that can help us re-think the idea of wealth and prosperity for the community.