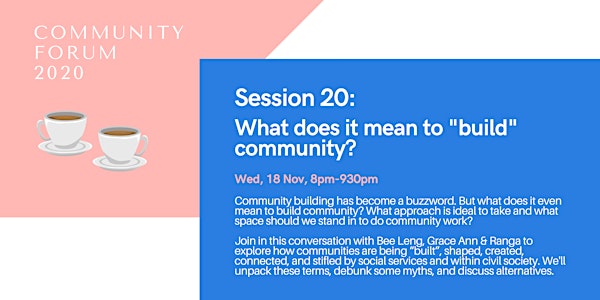 Session 20: What does it mean to "build" community?
.
About this event
Community building has become a buzzword. But what does it even mean to build community? What is community and who builds it? Who is responsible for building it? What is community work and what do community builders do? What approach is ideal to take and what space should we stand in to do community work?
In this session, we will explore how communities are being "built", shaped, created, connected, and stifled by social services and within civil society. Join in this conversation as we unpack these terms, debunk some myths, and discuss alternatives.
This conversation will respond the questions:
What is community?
What is a "community builder"? Who "builds" community?
What is community work? Whose responsibility is it?
How do we navigate the tensions we face in nurturing community from the outside?
Featuring:
Ng Bee Leng
Her Passion: Work alongside communities for social conditions that enable low income children and families to break out of intergenerational poverty.
Her Belief: Working with disadvantaged communities for the past 30 years has brought her to believe in asset-based community development that focuses on strengths rather than deficits of communities. Attention on "what is wrong" leads to an emphasis on deficits which is followed by a reliance on experts to solve their problems. However, when people in the community focus on "what is strong" and come together to participate in resolving their problems, they take control and collectively improve their own lives and the lives of others.
Her Dream: She hopes to see Singapore as a society where communities are like homes, where helping a neighbour or stranger is as natural as helping a family member. A home where bottom-up solutions are co-created WITH and BY rather than FOR the community, and a home where we live out our pledge of justice and equality.
Bee Leng is a social worker by training and is currently the Director of Community Development & Corporate Support at AMKFSC Community Services Ltd. She is an official ABCD Guide accredited by Nurture Development and ABCD Institute, Europe.
"When we focus on the poor's needs and deficits, we undermine and even inhibit their strengths. If we are not careful, our interventions may end up keeping the poor people poor, regardless of our profession to the contrary."
Grace Ann Chua
Her Passion: Restoring interdependence by connecting people through meaningful conversation.
Her Belief: We're not created to do life alone. Living in the context of community brings something new out of us. We come to understand who we are and the parts we play. We appreciate others and the part they play. There's so much to learn from another, and more than enough room in the world for all of us to thrive. We're not meant to live in envy or competition, but in enjoyment of how complementary we are.
Her Dream: An interconnected society where people know their value and are valued. Thriving communities where people contribute their skills, stories, strengths, networks, resources, in connectedness and partnership with one another. A better world as people collectively define their challenges and enact solutions that fit their local context.
Grace is a Geographer by training and is currently an Associate at the National Volunteer & Philanthropy Centre's Community Matters team. She is also the co-founder of Friendzone, a community building social enterprise that connects communities through customised conversation-centric events and capacity building workshops.
Ranga
Our amazing moderator for the session :D
Ranga is Deputy Executive Director at Beyond Social Services, which enables public rental housing neighbourhoods to be 'villages' that raise their children well. She is also on the Board of Compassion Fund Ltd, A Good Space Co-operative and The Constellation, an international organisation that grows community based responses to social issues the world over. Ranga's formal education is in social sciences, mass communication and social work. She is trained in community development, restorative justice and stakeholder engagement. Ranga looks forward to engaging more people in peace building efforts to create a society that is kinder, fairer and inclusive.
This is event is co-organised by Grace from NVPC Community Matters & Ranga from Beyond Social Services