Location
UWCSEA Dover
1207 Dover Road
High School Block, Level 4, Conference Centre 1
Singapore, 139654
Singapore
SheHacks is an all female and non-binary hackathon for those aged 10 - 18. It is a chance to show off your interest and skills in compsci!
About this event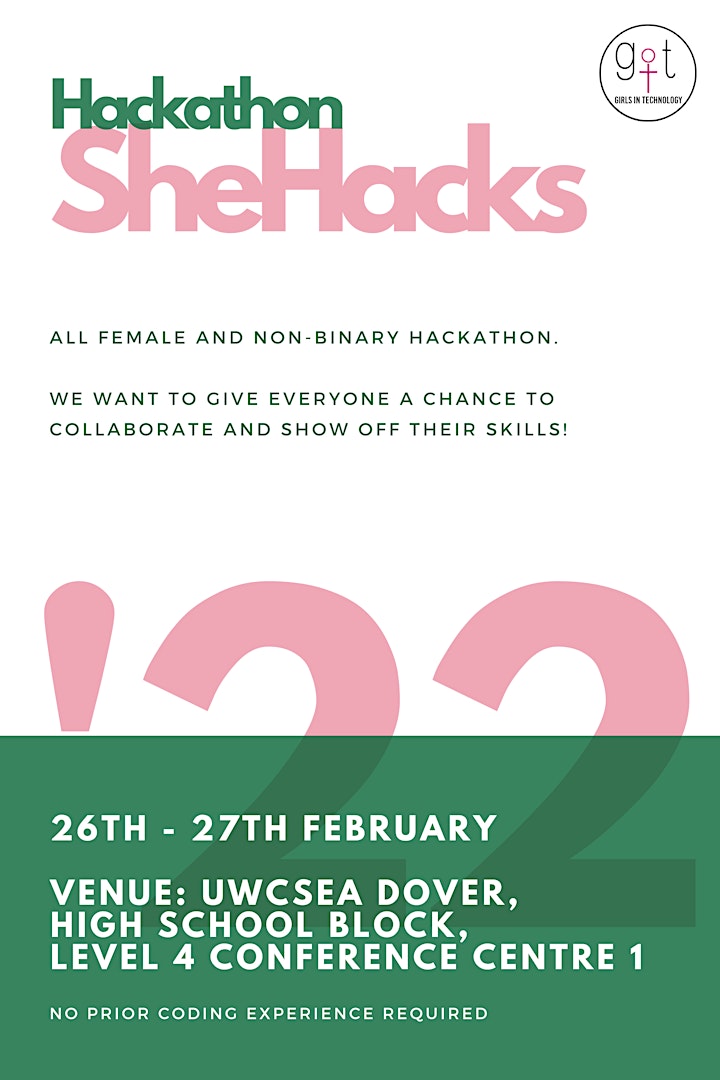 For more information, please visit our NEW website https://shehacks.weebly.com
TIMINGS: The event begins at 9am on Saturday the 26th of February and Day 1 finishes at 7pm. After this, attendees will go home and return back to the venue for Day 2 at 10am on Sunday the 27th of February. The event will finish around 5:30pm on the 27th.
How old do I have to be to sign up?
All students ages 10-18 are welcome.
What will I need?
A laptop with a working internet connection.
Will teams be assigned to us?
You are welcome to join with a group of friends as a team, but all of you will need to complete individual sign ups. If you do not have a team, we will help you find one on the competition date.
Do I need programming experience?
No! SheHacks will hold workshops on the first day of the hackathon, giving you an opportunity to learn before you start building your project.
Will there be photographs and videos taken during the event?

Yes, please note that video and photographs will be taken of all participants as a condition for joining SHEHACKS. By signing up for this competition, you grant Girls in Tech representatives and employees the right to take photographs of you and the work you produce at the hackathon. You also agree that Girls in Tech may use these photographs with or without your name for any lawful purpose, including for example such purposes as publicity, illustration, advertising, and Web content.
Does GirlsinTech own the project that I create during the event?

No, your ideas are your own!
How can I contact the organiser with any more questions?

For further information, please contact the Girls in Tech team at girlsintechuwc@gmail.com.