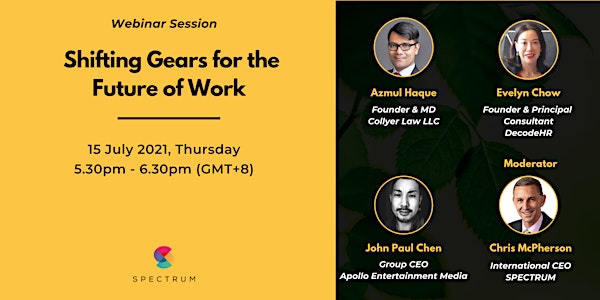 Shifting Gears for the Future of Work
Join this free webinar to hear from SPECTRUM Members in leading their teams to work and think differently in their new work culture.
About this event
Outline
What future can we expect after Covid, an event that has so profoundly affected our personal and professional lives? Are changes like remote working here to stay or we'll gradually go back to pre-pandemic habits and norms?
It's difficult to predict how the world's recovery will unfold but we are taking on this challenge by bringing together a panel of business leaders to discuss the short, medium and long-term repercussions of Covid and the business disruptions experienced in industries such as HR, Legal Services and Entertainment.
Our panellists will talk about their personal stories navigating the challenges of managing remote teams and leading their businesses forward despite being confronted by uncertainties and constant changes. They'll also share tips on maintaining effective team communication and engagement and other lessons they learned along the way. Join us for this honest discussion and gain some new insights and perspectives on the impact of Covid in different industries and on the future that awaits us after we leave this pandemic behind.
Panelists:
Chris McPherson, International CEO, SPECTRUM (Moderator)
Azmul Haque, Founder & MD, Collyer Law LLC
Evelyn Chow, Founder & Principal Consultant, DecodeHR
John Paul Chen, Group CEO, Apollo Entertainment Media
About the Speakers
Azmul Haque, Founder & Managing Director, Collyer Law LLC
Azmul is a tri-qualified lawyer, qualified and admitted to practice law in England, India and Singapore. Over the last 19 years, Azmul has developed particular expertise in complex, cross-border corporate transactions (acquisitions and divestitures, joint ventures and strategic alliances, public and private equity, venture and angel financing), commercial contracts (outsourcing, franchising and licensing, various) and regulatory matters in a range of areas that impact business – whether for start-ups or billion-dollar enterprises. He has been rated as a leading practitioner for the TMT sector, and focusses currently on clients in emerging technology such as FinTech, HealthTech, AdTech, Big Data, IOT, BlockChain, Internet & e-Commerce.
Azmul is ranked and recommended by several legal industry directories including Chambers Asia, Asia-Pacific Legal 500 and Global Law Experts (for TMT). Azmul was rated a "Top 40-under-40" lawyer (Asian Legal Business, October 2016), in "Singapore A-List of Top 100 Lawyers" (Asia Business Law Journal, 2018 and 2019) and the International A-List 2020 (Indian Business Law Journal).
Evelyn Chow, Founder & Principal Consultant, DecodeHR Pte Ltd
With a solid background across the human resources spectrum and a dedication to ensuring companies are truly strategic beyond just robust HR systems and practices, Evelyn believes each organisation can attract and retain the best talent for future success. Evelyn is the founder and Principal Consultant of DecodeHR, a strategic HR consulting firm based in Singapore.
She is a hands-on human resource professional with strong cross-cultural exposure and has had the privilege of leading diverse teams across the region. A decade of corporate human resources roles across Asia within the IT, hospitality and real estate sectors in companies such as EDS and Symantec led Evelyn to the role of Client Solutions Director for Hudson's Recruitment Process Outsourcing (RPO) business for Asia.Evelyn works with clients to develop strategies and programs in the areas of Strategic Workforce Planning, Competency Frameworks Development, Talent Acquisition, Compensation & Benefits, Talent Management & Leadership Development. She is especially passionate about leveraging technology and helping her clients understand how HR tech can help propel their human capital programs to greater heights. She is also an advocate of Agile HR.
In her spare time, she enjoys spending time outdoors, listening to music, admiring beautiful art and reading books that feed her soul.
John Paul Chen, Group CEO, Apollo Entertainment Media
John Paul Chen is the Group CEO of Apollo Entertainment Media Group, a Live and Family Entertainment company operating in APAC. John Paul or JP for short is a chartered accountant by training and previously worked at General Electric and the Monetary Authority of Singapore before embarking on a 5 year stint in the world of startups and tech. Brought in previously as Group CFO to drive restructuring, innovation and strategy for Apollo Group, JP is now Group CEO tasked with launching family exhibition events in South East Asia, Australia and Taiwan/China within the next 18 months. A big believer in creating scalable businesses with a positive impact on society, mental health and the future generation.
Chris McPherson , International CEO, SPECTRUM
Chris spearheads the technology and business club's expansion plans in Singapore and internationally. Bringing more than 25 years of regional leadership and management experience, he helps achieve SPECTRUM's vision of building a globally connected ecosystem.
With a successful track record in leading high-growth technology startups to regional companies, Chris has deep knowledge of the APAC region and strong experience in the business IT and Telecommunications space.
Prior to joining SPECTRUM, Chris was Managing Director of APAC and Japan at Condeco. He has also worked with organisations of different sizes and growth stages from startups to MNCs and listed companies including Intel, Raritan Asia Pacific and LenovoEMC (previously Iomega).
A travel enthusiast and an avid runner, Chris has been based in Singapore for the past 20 years.