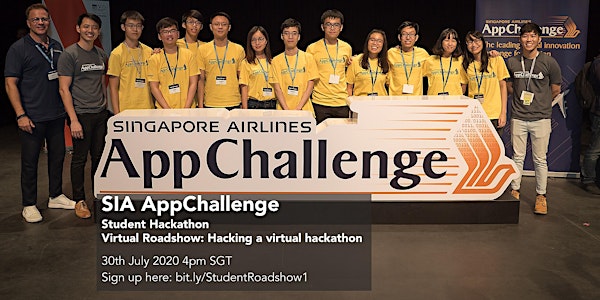 SIA AppChallenge 2020 Student Track - Hacking a Virtual Hackathon
Join us for a panel discussion with seasoned hackathon organisers on what a virtual hackathon is and for pro-tips on how to win!
About this event
Singapore Airlines Digital Innovation Lab, the KrisLab, sits down for a chat with seasoned hackathon organisers and a past winner to uncover pro-tips on how to win a virtual hackathon and how to have the most fun!
On this panel we have:
Elaine Yeoh from The Mind Hyve, winner of StartupWeekend 2020. Elaine is a designer, entrepreneur and digital marketer passionate about inspiring a better world through her work. The Mind Hyve seeks to redefine the culture of work by rethinking mental care at the workplace.
Shih Han Wong, Programme Manager of StartupWeekend and StartupX, where she formulates strategies and designs the curriculum for corporate innovation programmes and helps startups refine their ideas and scale effectively.
Moderator: Christina Tarigan from Singapore Airlines.
Agenda:
4:00pm: Welcome message by Christina and housekeeping matters
4:05pm: AppChallenge Introduction
4:15pm: Welcome panellist and begin discussion
4:45pm: Open floor to audience Q&A