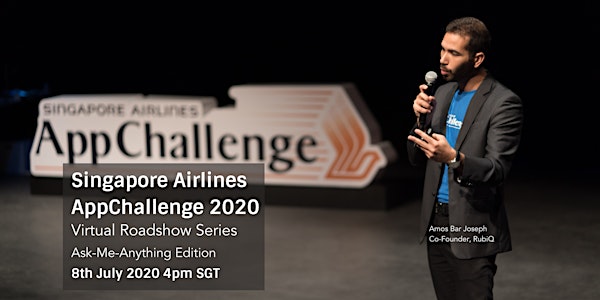 SIA AppChallenge 2020 Virtual Roadshow - Feat. RubiQ & Enterprise Singapore
Join us for a Panel discussion on the challenge statements for AppChallenge 2020 and insights from a Finalist from AppChallenge 2019.
About this event
Singapore Airlines Digital Innovation Lab, the Krislab, takes you on a deep dive of the problem statements for AppChallenge 2020.
Join us for a free flowing Ask-Me-Anything panel discussion featuring an exciting panel:
1. Amos from RubiQ, AppChalllenge 2019 finalist.
2. Travis Lim, SIA Digital Innovation Lab, KrisLab.
3. Special guest, Mr Law Chung Ming, Director of Transport and Logistics at Enterprise Singapore.
We will discuss everything from SIA's digital transformation strategy, insights from a startup who has worked up close and personal with SIA and insights on the fast changing innovation landscape in Singapore.
Join us and ask us anything you'd like to know!
About RubiQ:
RubiQ is on a mission to create a world with frictionless flight disruptions by providing AI-based recovery tools to airlines, travel management companies, and online travel agencies.
RubiQ was a finalist in the SIA AppChallenge 2019.