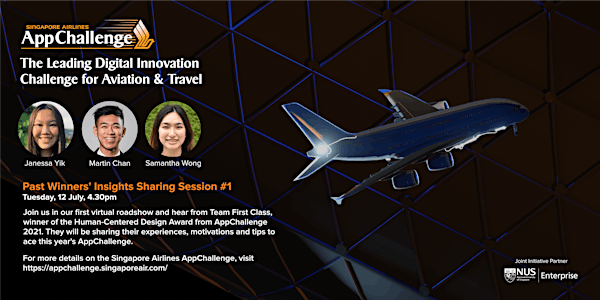 SIA AppChallenge - Student Track - Past Winner's Insights: Sharing #1
Singapore Airlines AppChallenge - Past Winner's Insights: Sharing Session #1
About this event
Join us in our first virtual roadshow and hear from team First Class, winner of the Human-Centered Design Award from AppChallenge 2021. They will be sharing their experiences, motivations and tips to ace this year's AppChallenge.
About Singapore Airlines AppChallenge
The Singapore Airlines AppChallenge is back for its 8th edition! Whether you are a startup or a student, you are invited to join in this exciting journey. Let your digital solutions help Singapore Airlines lead change and redefine the aviation and travel space.
Submission for the Tertiary Student Track is now open until 31st July 2022. Prepare the AppChallenge by attending the upcoming roadshows to gain insights from past winners and Singapore Airlines business units!
For information on the challenge statements and other details, visit https://appchallenge.singaporeair.com
Do Not Miss These Virtual Roadshows