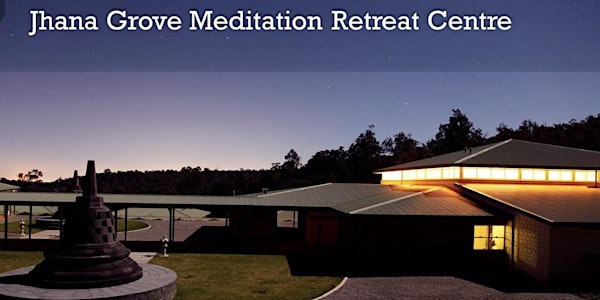 Silent Retreat with Ajahn Brahm at Jhana Grove 11-20 Oct 2019
Date and time
Fri, 11 Oct 2019 19:00 - Sun, 20 Oct 2019 15:00 AWST
Location
Jhana Grove Meditation Centre 283 Kingsbury Drive Serpentine, Western Australia 6125 Australia
Description
Take an inward journey . . . getting to know your mind, your emotions and learning to let go of the past and to stop worrying about the future. Ajahn Brahm will be leading this retreat with opportunities to have one-to-one interviews.
Live under the stars, amongst the trees and be in touch with yourself and nature. Vegetarain meals will be provided. Each room has an attached shower, sink and toilet. Please clean up before leaving,
This is a 8-precept silent retreat for people with PRIOR meditation experience.
Retreat Fees: $700 (includes accomodation, daily breakfast, lunch and tea break)
Please observe SILENCE in all areas of the retreat centre including inside the cottages
PROGRAM
11 October 2019 (Friday)
You may arrive on Friday from 3pm onwards, soup and bread will be available from 6pm-8pm.
12 - 18 October - subject to adjustments by Ajahn Brahm
6am Meditation
6:45am Breakfast plus lunch preparation - duties will be rostered
8am - Dhamma Talk
11am - Lunch
12pm - 2pm - Rest
2pm - 4pm - Walking & Sitting Meditation (self-practice)
4pm Sutta Class
5pm Tea Break
7pm Group meditation
8pm - 9:30pm Evening Q&A Session
19 October (Saturday)
6am Meditation
6:45am Breakfast
8am - Dhamma Talk
11am - Lunch plus Clean Up for Kathina
1pm - 2pm Closing of Retreat
Chill out after with one extra night stay to join Kathina Celebrations on 20 October
(The above is subject to change. Interview timings, if granted, will be announced at the retreat)
TRANSPORT
Air and land transport to and fro Perth airport to Jhana Grove are to be self arranged. You will be provided with a contact to make your OWN arrangements as retreatants are arriving on various flights and leaving at different times. Retreat and Kathina will end at 2pm. If you are using transport by Mark Ang on Kathina Day, please note that his transport from Jhana Grove will only be available from 2pm onwards. You may use Uber transport for other timings.
KATHINA
Kathina celebrations at Jhana Grove will be on 20 Oct. Preparations will commence in the morning after breakfast and end at about 2pm
MEALS
All meals (breakfast, lunch and tea breal) provided are vegetarian. The meals will NOT be free of garlic, onion, eggs and milk products. You may eat an extra meal in the evening due to medical reasons.
If you need the extra meal or have special diets, you will need to bring your own supplies.
ACCOMMODATION
Participants will be assigned single ensuite rooms in mixed sex cottages. This being a silent retreat, requests to be accommodated in the same cottage as friends or relatives, or specific rooms will NOT be entertained except for medical reasons.
CANCELLATION POLICY
Cancellations will be treated as donations. In other words, cancellations will NOT be entertained.
Please purchase a travel policy instead to protect yourself against any financial loss due to cancellation for whatever reasons, flight delays especially if you are flying a budget airline or any unexpected situations.
Wishing ALL a Peaceful & Enlightening Retreat!
About the organiser
Bodhinyana Ltd is a Singapore registered non-profit organisation managed by volunteers, under the patronage of Ajahn Brahm (ACRA Registration No: 20150367W)
All surplus are applied to support programs that promote wisdom, compassion and kindness.