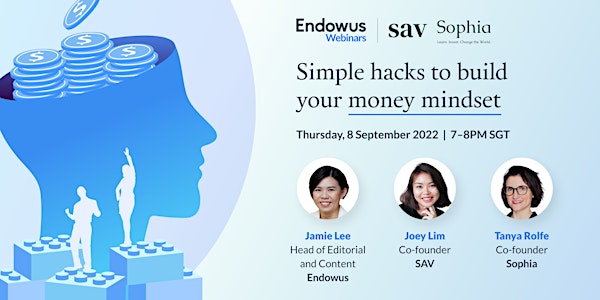 Simple hacks to build your money mindset
Learn simple steps to set up personal goals around money management. Pick up easy hacks to be disciplined about investing effortlessly.
About this event
Money matters can be overwhelming. On top of juggling our day-to-day obligations, we must also manage household expenses, pay down the mortgage, and project future expenses based on our family's needs.
Some days, we may not have the mental bandwidth to get started on long-term planning. That's especially so when it comes to investing, even though we know it's important to build our wealth early for our financial needs in the next few decades.
Join us in this webinar as personal finance experts discuss how to cut through the clutter to build a clear money mindset. This session will guide you through:
1. Simple steps to set up personal goals around money management
2. Easy hacks to stay disciplined with your investments
3. Debunking myths that are keeping you from investing for your future
4. How to find peace of mind by taking care of your finances in a fuss-free way
About our speakers
Tanya Rolfe is the co-founder of Sophia, a financial education platform in Asia with a mission to educate and empower women to manage their personal finances. Sophia helps women mobilise the almost $93 trillion dollars in wealth held by women and to learn the skills necessary to grow their wealth.
Tanya founded the Ladies Investment Club in Singapore and grew a team of 40 female investors which enabled female investors to build their investment portfolio and credentials, while providing hard to access funding to female founders. Tanya went on to launch a venture capital fund for women entrepreneurs and during her time at the fund, discovered the need for both more women investors and women entrepreneurs to be supported.
Before Tanya started her investment and education work, Tanya worked at some of the world's largest law firms for over 15 years. She is a recognised LinkedIn Top Voices 2022 for Gender Equity in Singapore.
Joey Lim is the co-founder of SAV, a digital community aimed at engaging and helping the new adults of Singapore navigate money, career and wellbeing. A millennial herself, Joey realised that the adults of Singapore have questions - and nobody to answer them. They have questions about which insurance to buy, but don't want to speak to insurance agents. They have questions about investing, but don't know which information to filter out. They have questions about their careers, but can't find anyone who relates. They want to talk about their well-being, but therapists are out of reach.
SAV's objective is to be the community that encourages conversation about all those topics and engages experts to provide advice. Joey started SAV as a podcast and has since moved over to Instagram, where she organically built a community of over 19,000 followers.
Jamie Lee is Head of Editorial and Content at Endowus, where she oversees financial literacy curation, as well as content strategy and execution. At the heart of her job is the purpose of demystifying investing so it becomes a more inclusive conversation for all.
Jamie also works with the content team to articulate effectively what Endowus stands for in its fee-only mission. She was previously deputy editor at The Business Times, where she spent close to 14 years managing editorial coverage of two major sectors in Singapore: banking & finance, and property. She holds a Master of Arts (Business and Economic Reporting) from New York University's Stern School of Business and the Arthur L. Carter Journalism Institute.