** UPDATE:Due to the recent surge in COVID 19 cases in Singapore, we're moving all our classes ONLINE**
About this event
At this weekly class be guided by Resident Teacher, Kelsang Rabka, in simple meditations that relax the body and mind, reduce stress and anxiety and enable us to discover the natural peace and clarity that lies within.
May 27, June 03 & 10 - Meditations for Relaxation
This course is perfect for beginners. Be guided in three simple breathing meditations that help to calm the mind, reduce stress, and give rise to an experience of inner peace and well-being. The first is a basic breathing meditation that helps to disengage the mind from the busyness of everyday life and create a special feeling of inner peace. The second combines mindfulness of the breath with visualization, or creative imagination, and leads to a deep feeling of inner calm and purity. The third is a special breathing meditation that combines mindfulness of the breath with the recitation of mantra. All these meditations can be practised by anyone.
BOOK THE 3-WEEK MEDITATION SERIES AT THE SPECIAL RATE OF $30, or attend a single class at the standard rate of $13 per person.
Class Format:
5 min Liberating Prayer
10 min Introduction
15 min Breathing Meditation
10-15 min Meditation Instruction
15-20 min Guided Meditation
Optional Q&A with Kelsang Rabka after class for those who wish to stay back - feel free to ask him about anything you would like clarified about meditation
Other Information:
No previous experience required, everybody is welcome to join
Each class is self-contained, join anytime.
Both chairs & floor cushions are available at in-person classes
No dress code, wear something that's comfortable for you
For those joining us online the viewing link will remain available for 7 days after the live-stream.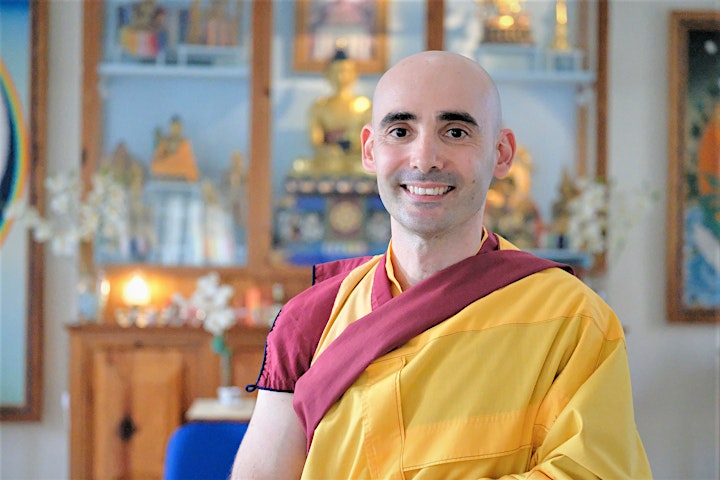 About the Teacher:
Kelsang Rabka was appointed as the Resident Teacher of KMC Singapore in mid 2020. He is an Australian Buddhist monk who has been studying and practicing Kadampa Buddhism with Venerable Geshe Kelsang Gyatso Rinpoche and his senior disciples for 13 years, and has taught both in Australia and the UK.
The clarity and warmth in his teachings has helped many students experience the practical benefits of modern Kadampa Buddhism in their daily lives.
Organiser of Simply Meditate: Thu Evening Meditation Class (online)
Kadampa Meditation Centre Singapore at 18B Keong Saik Road is a precious sanctuary of peace in the middle of this bustling city.
The Centre offers a full range of meditations, teachings and retreats, which offer practical advice from Buddha to help people make their daily life happier. Study Programmes are also available for those who wish to deepen their understanding or train as Buddhist teachers. With its magnificent statues, tranquil atmosphere and modern Buddhist bookshop it is a perfect destination for anyone seeking peace, relaxation and inspiration.
Modern Buddhism is a special presentation of Buddha's teachings for the modern world that shows how Buddha's advice on wisdom and compassion can benefit anyone in modern society regardless of age, race, gender or faith.