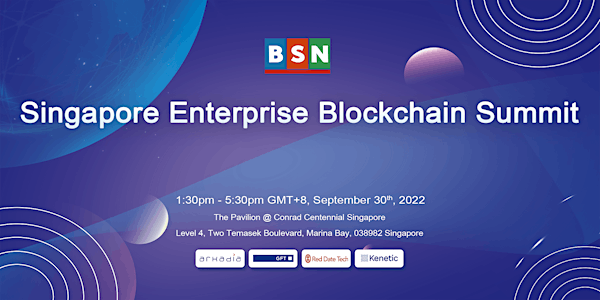 Singapore Enterprise Blockchain Summit
We are proud to present the final stop of the BSN Global Roadshow; The Singapore Enterprise Blockchain Summit!
When and where
Location
Conrad Centennial Singapore 2 Temasek Boulevard Singapore, 038982 Singapore
About this event
In partnership with BSN, GFT and Arkadia Global, The Singapore Enterprise Blockchain Summit will feature enterprise blockchain keynotes, discussions, and networking.
Date: September 30, 2022
Venue: The Pavilion @ Conrad Centennial Singapore
Level 4, Two Temasek Boulevard, Marina Bay, 038982 Singapore
During this event, we will introduce BSN's newly launched initiative, the Spartan Network, a public infrastructure network based on the lightweight BSN Spartan data center software, which is open source, accessible, and can be downloaded and installed anonymously. We will focus on enterprise blockchain, and discuss how it can shape the business market in Singapore.
The concept of "Public IT Systems" and the BSN Spartan Network, based on non-cryptocurrency public chain technologies, is an important initiative that can serve all types of IT systems to advance transparency, data protection, and easy connectivity for various enterprise and government use cases. Our GFT and Arkadia experts will also talk about Asset Tokenization and multi-asset exchanges.
We are looking forward to having your participation and sharing of ideas.
Register now for free to join us at our final stop of the BSN Global Roadshow, The Singapore Enterprise Blockchain Summit!
Event Agenda
1:00-1:30
Registration
1:30-1:35
Opening // Jehan Chu, Co-Founder, Managing Partner at Kenetic
1:35-2:10
Keynote #1 - The Mission of the BSN // Yifan He, CEO, Red Date Technology
2:10-2:30
BSN Spartan Operation and Use Cases // Tim Bailey, VP of Global Sales, Red Date Technology
2:30-3:00
Coffee Break
3:00-3:20
Keynote #2 - Asset Tokenization, The Future of the Real World // Arnaud Brolly, Co-Founder & CEO, Arkadia Global
3:20-3:40
Keynote #3 - Are Public Exchanges Ready to Adopt Blockchain Tech and Offer Digital Assets? // Antonio Camacho Hubner, Business Development Southeast Asia (SEA), APAC Head of Banking, GFT
3:40-4:00
Keynote #4 - Peeking Into The SG FinTech Landscape // Reuben Lim, Chief Operating Officer, Singapore FinTech Association
4:00-4:20
Keynote #5 - Real World DLT Adoption & Enterprise-Grade Use Cases on Hedera // Sabrina Tachdijian, Head of Fintech & Payments, HBAR Foundation
4:20-4:40
Keynote #6 - Real World Assets and the Tokenized Economy // Scott Thiel, Founder and Entrepreneur-in-Residence of TOKO
4:40-5:30
Networking Session
About Red Date Technology
Red Date Technology is a Hong Kong-headquartered technology company that is the technical architect for the BSN (Blockchain-based Service Network). Backed by Prosperity7 Ventures, Kenetic Capital, Pictet, and Bangkok Bank, Red Date is leading a series of events in Istanbul, Riyadh, Bahrain, Dubai, and Singapore.
https://www.linkedin.com/company/bsnbase/
https://www.youtube.com/channel/UCUZhOZdni3ZRYmOJri8hnNQ
About GFT - Sharing the future of digital business
As a pioneer for digital transformation GFT develops sustainable solutions across new technologies. GFT clients gain easy and safe access to scalable IT-applications and innovative business models. Founded in 1987 and located in more than 15 markets, the GFT team consists of over 10,000 determined talents.
www.linkedin.com/company/gft-group
About Arkadia Global
Arkadia Global is a global fintech and technology firm headquartered in Singapore founded by Enterprise Blockchain veterans in early 2020. Arkadia Global has developed a cutting-edge Tokenization platform for Real World Asset, such as Real Estate, Supply-Chain, AgriTech, commodity trading and Carbon Credit Market. Arkadia Global Network & representatives are today covering 10 countries across South-East Asia, China, India and Europe.