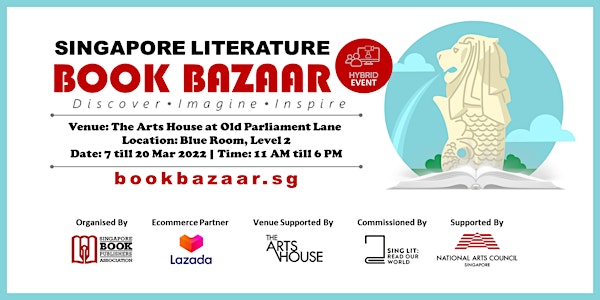 Singapore Literature Book Bazaar 2022
An exciting book fair with engaging programmes. Don't miss this opportunity to immerse yourself into a world of astonishing new stories!
When and where
Location
The Arts House 1 Old Parliament Lane Singapore, 179429 Singapore
About this event
To encourage appreciation of the Singapore Literary community amongst young and working adults. The Singapore Book Publishers Association (SBPA) is organising a Singapore Literature Book Bazaar from 7th till 20th March 2022. This event is part of the 'SING LIT: READ OUR WORLD' movement, which is supported by the National Arts Council. The official venue sponsor is The Arts House, and LAZADA powers the online book sales as the Official E-commerce partner.
The Book Bazaar will be held for 14 days in the Blue Room, and the Activity programme will be held in the Living Room of The Arts House. It will be a hybrid event with new book launches, book sharing, meeting of authors, panel discussions and publishers' talk show curated for the consumers in mind. At the same time, online book sales are platformed on www.lazada.sg, you can also enjoy the event online that would be live-streamed with the help of our production team, Muse Pte Ltd.
The Living Room will be used as the studio production and host the LIVE audiences. The programme includes the opening ceremony, joint book launches and TV launch, book sharing and discussions whereby the Blue Room would be showcasing the participating publishers' Sing Lit books.
We have 12 leading publishers and booksellers participating in the Singapore Literature Book Bazaar 2022. They are Armour Publishing, Asiapac Books, Ethos Books, Experiences and Experiments Books, Jsim Education, Kitaab International, Landmark Books, NUS Press Singapore, Pustaka Islamiyah, Pustaka Nasional, TrendLit Publishing and World Scientific Publishing.
FOLLOW US ON FACEBOOK OR SUBSCRIBE OUR YOUTUBE CHANNEL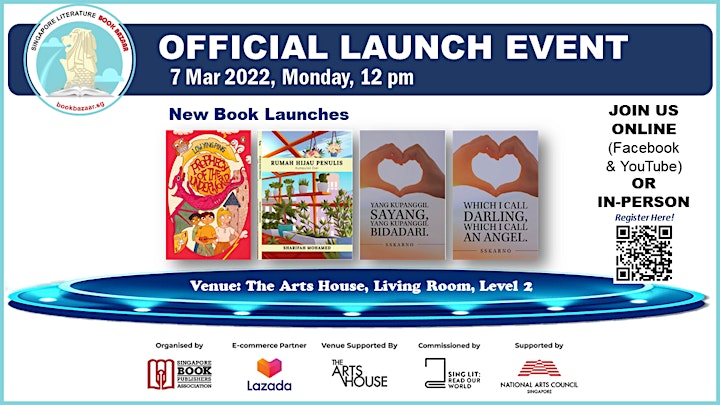 The Singapore Literature Book Bazaar 2022 will be officially launched on Monday 7 March 2022 at 12.00 pm with the event streamed live on SBPA's Facebook page (https://www.facebook.com/sbpa.sg). There would be an opening speech by William Phuan, Executive Director of Singapore Book Council and an event introduction by Valerie James, Manager of Singapore Book Publishers Association. We will continue with a joint book launch by Penguin Random House SEA, Sharifah Mohamed and Sskarno. Register your E-Tickets to attend this event now!

ACTIVITY is a physical event to be hosted at The Arts House and live-streamed on SBPA's Facebook page and YouTube channel. These events are planned for the weekends with three times slots: 11 am, 3 pm and 5 pm per day. The programme includes Book Sharing, Book Launch, Panel Discussion and 'Meet-The-Author' sessions. Total of 11 programmes to take part, get your E-tickets here!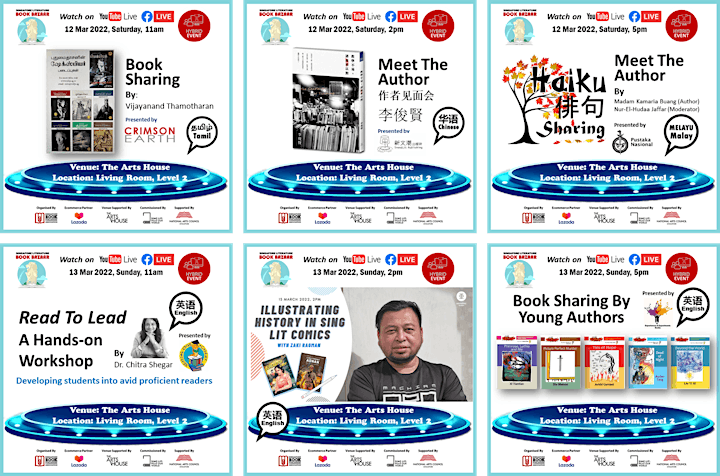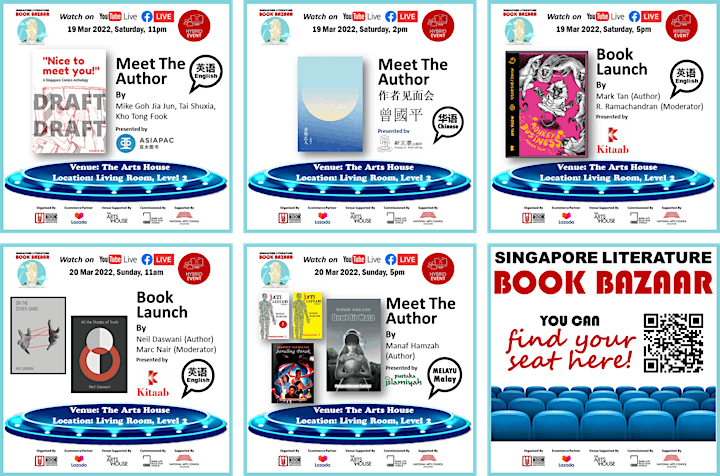 EVENT is live-streamed programmes scheduled on weekdays for adult readers. It will be broadcasted on SBPA's Facebook page and YouTube channel. Stay tuned with us to watch this programme at home. We have planned a total of six shows that line up on Monday, Wednesday & Friday at 7 pm. It includes Book Sharing, Book Launch and 'Meet The Author' sessions. Join us; watch, like and share our programmes to support Singapore Literature.