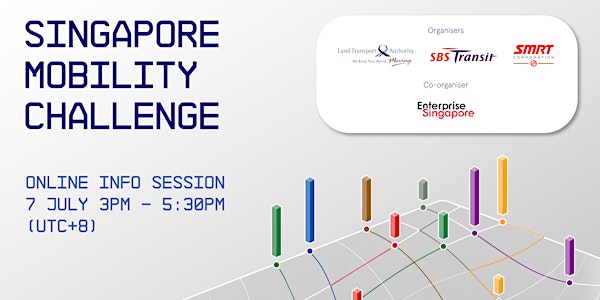 Singapore Mobility Challenge 2020: Online Info Session
Learn about the themes of the Singapore Mobility Challenge and find out what is expected of startup participants!
About this event
With over two-thirds of people in Singapore commuting daily on buses and trains, the public transport system is a part of our everyday lives. Technology gives us the opportunity to innovate and improve the daily lives of commuters.
Jointly organised by the Land Transport Authority of Singapore (LTA), SBS Transit, and SMRT, and co-organised by Enterprise Singapore, the Singapore Mobility Challenge seeks solutions that can enhance Singapore's public transport system by creating a better, safer, more inclusive everyday experience for commuters, and by supporting the workers who keep our public transport system running.
This online info session will serve as a primer for prospective participants. Hear from the challenge owners and experts as they explore the themes and challenge statements. Join us to learn more about what is expected of you and get a head start on your submissions!
Selected startups will get to execute proofs of concept during the incubation period with our challenge owners. Finalists will also stand a chance to win from a cash prize pool of $30,000 and receive a Startup SG grant that matches their cash prize.
AWS Activate Credits and SGTech Startup memberships are also in store!
Ready with your solution? Apply here: https://bit.ly/smc2020-apply.
Submissions close on Tuesday, 11 August.
Programme Highlights
- Welcome
- Sharing by SMC2019 finalist
- Programme details
- Challenge presentations and Q&A
- Virtual networking
This event will be held virtually using Remo, a platform that allows both webinar-style presentations and also split-room video conferencing, allowing you seek out the experts present online to connect and have in-depth discussions.
Note: This challenge is meant for startups and registered companies only.