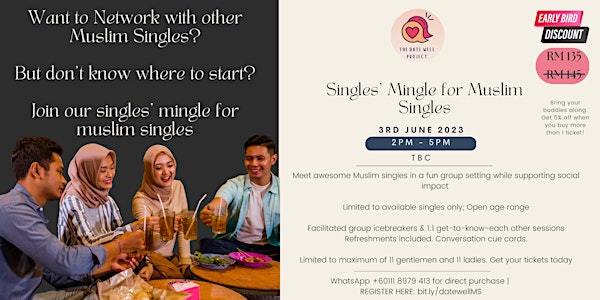 Singles' Mingle for Muslim Singles | Meet for a Cause
Want to meet other singles but don't know where to start? Meet eligible Muslim singles who share your values while supporting social impact.
Date and time
Saturday, June 10 · 2 - 5pm +08
Location
MOV Hotel 43 Jalan Berangan Kuala Lumpur, 50200 Malaysia
About this event
Follow our IG page @datewellproject or FB page for more!
Changed to 10th June!
MEET MUSLIM SINGLES IN A FUN GROUP SETTING WHILE SUPPORTING SOCIAL IMPACT!
All of our Date Well Project events support charitable causes. This time, our beneficiary is Yayasan Chow Kit, an NGO aimed at protecting at-risk children and teens in Chow Kit area. Check out what they do here
You can opt for direct purchase to save on EventBrite fees. WhatsApp us at +601118979413 to directly purchase.
ABOUT THE EVENT
It's our mission to spark meaningful connections whilst supporting social impact. Meet like-minded singles who shares your values. All you have to do is sign up, and let the connections bloom.
Here's what to expect:
Meet awesome Muslim singles in a fun group setting while supporting social impact
A low-pressure meetup. Refreshments and drinks will be provided.
Limited to singles only. Open age range
Facilitated group ice-breakers & 1:1 get-to-know-each other sessions
Refreshments included. Conversation cue cards.
Limited seats only: maximum of 11 ladies and 11 gentlemen only. Get your tickets today
Before the event starts, our host will help break the ice. No worries if you're a bit shy. It's a great way to meet people
We have curated some conversation cards for your 1:1 get to know each other sessions to understand each other better.
You have the option to put in the names of whoever you would like to know more about.
Psss.. You don't have to give out your number. Only give out your number if you both are a match
You'll receive your mutual matches' info after the event (within 24 hours) if you have both indicated interest on the match card
When facilitated sessions are done, please stay for the mingle session and hang out with the crowd some more.
HOW TO JOIN
Purchase your ticket on Eventbrite or directly via WhatsApp.
Keep an eye on your email… we'll send the confirmation email with the event info / instructions there.
Expect the event reminder to arrive via email/WhatsApp before the day of the event.
Come by the venue 15-20 minutes prior to start time to register. Bring an personal identifying document like IC, driving license to register.
Enjoy yourself!
That's it! Enjoy yourself!
Follow us for more exciting singles events
Instagram: @datewellproject
Facebook: @datewellproject
Website: www.datewellproject.com
For any enquiries, feel free to WhatsApp us or email to hello@thedatewellproject.com.
PS: You can opt for direct purchase to save on EventBrite fees. WhatsApp us at +601118979413 to directly purchase.
P/PS: We have a buddy discount available if you buy more than 1 ticket. Insert the promo code DWPBUDDY for 5% off at checkout.
Keywords: Meet Muslim Singles Muslim Speed Dating Malaysia Malaysian Singles Speed Dating
About the organizer
Tired of dating apps? Life is too short to be playing games and being ghosted on dating apps. Join us to meet eligible singles while contributing to social impact. All of our dating events support charitable causes.