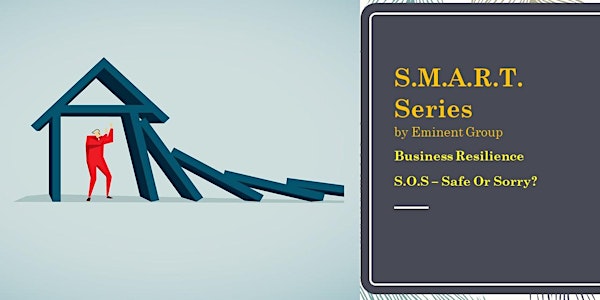 S.M.A.R.T. Series - Business Resilience SOS (Safe or Sorry) Webinar
Come and understand how resilient your Organisations are? And how to adapt to the new "Normal"!
About this event
The world has changed. NEW NORMAL is here to stay! How well is your business adapting to the current Covid-19 pandemic? Are you prepared for the unprecedented change in the world's business environment that will be here to stay? Are you anxious as to how to find new opportunities amidst uncertainties?
In this webinar, we will be introducing our S.M.A.R.T. system (Specific Management Consulting with Accountability & Resilience training) that will have a positive impact on your business. It thrives on the development of Human Capital with mindset and technological transformation.
In fact, with the Covid-19 pandemic, it presents an excellent opportunity for you to make significant long term changes for your business to be more resilience towards future potential pitfalls and unforeseen crisis. Many businesses will be forced to adapt, change and evolve, how about yours?
Register for this webinar and discover how you can bring your company's resilience to the next level, to be safe than sorry!
As an introductory offer, you will be receiving valuable complimentary treats at the session.
Date: 25 June 2020 (Thursday)
Time: 8:00pm - 9:30pm
We will be discussing the following during our webinar:
Budget 2020 essentials: Singapore and Malaysia
How to move out of your Comfort zone to find clarity to protect your business and team?
Where to find breakthroughs and new possibilities in my business?
For those who are looking to adapt, build and pivot your business after the pandemic, we look forward to meeting you online.