Description
SMS (Seniors-Meet-Seniors) Knowledge Café is open to all. SMS Knowledge Café is a place where people can meet seniors to have fun and productive conversations to learn from each other and to make better sense of living in an urban community. The objective of the SMS Knowledge Café is to encourage peer-led discussions and learning in small groups for seniors.
Date: 26 Dec 2019 (Thursday)
Time: 2pm to 4.30pm
Venue: 10 Square @ Orchard Central Level 10, Dance Studio
Free admission
Discussion topic: Listen & Connect
Active Listening connects you with others through understanding Sympathy, Empathy, and Compassion. It is about building space for communication. Before you speak your truth without fear, find out how to listen and connect first.
View SMS photos on facebook.com/u3rdage
Photographs and videos may be taken during the programme for news and publicity purposes.
For queries, please contact the organizer or if you would like to join our weekly email group for updates on the discussion topic.
Email u3rdage.carol@gmail.com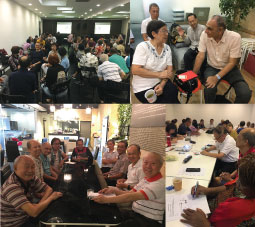 In registering for this activity, you consent to the collection and processing of your personal information for U 3rd Age Pte Ltd mailing list, in accordance with the Personal Data Protection Act (2012).
You may choose to unsubscribe at any point by sending an email to u3rdagesingapore@gmail.com