Description
A place is a unique geographical location with a material form and invested with meaning and values. Places are layered with multiple meanings and values which led to an increasing comprehension of the multitudinous and contradictory ways by which national and other identities (individual, community, ethnic) are inextricably connected to specific landscapes. The intertwining of place, memory and identity has established several discourses. And contestation occurs when an individual claims to a given place and within these claims, it is socially organised that memories are invoked as "authoritative sources of being able to speak a place."
These contestations take place in HDB communities too. The 1961 Bukit Ho Swee Fire, which narrates how HDB had resettled the fire victims into modern public housing, is repeated in social studies textbooks, exhibitions and official public histories. However, both older and younger Singaporeans remember the fire in different ways. Likewise, an ordinary market or hawker centre in a mature estate can be a disamenity to certain segments of the population. To others, they may be regarded by a sacred site invested with memories and meaning.
So, let us explore the contested memoryscapes in HDB communities with Dr Hamzah Muzaini on Sunday, 19 April 2020.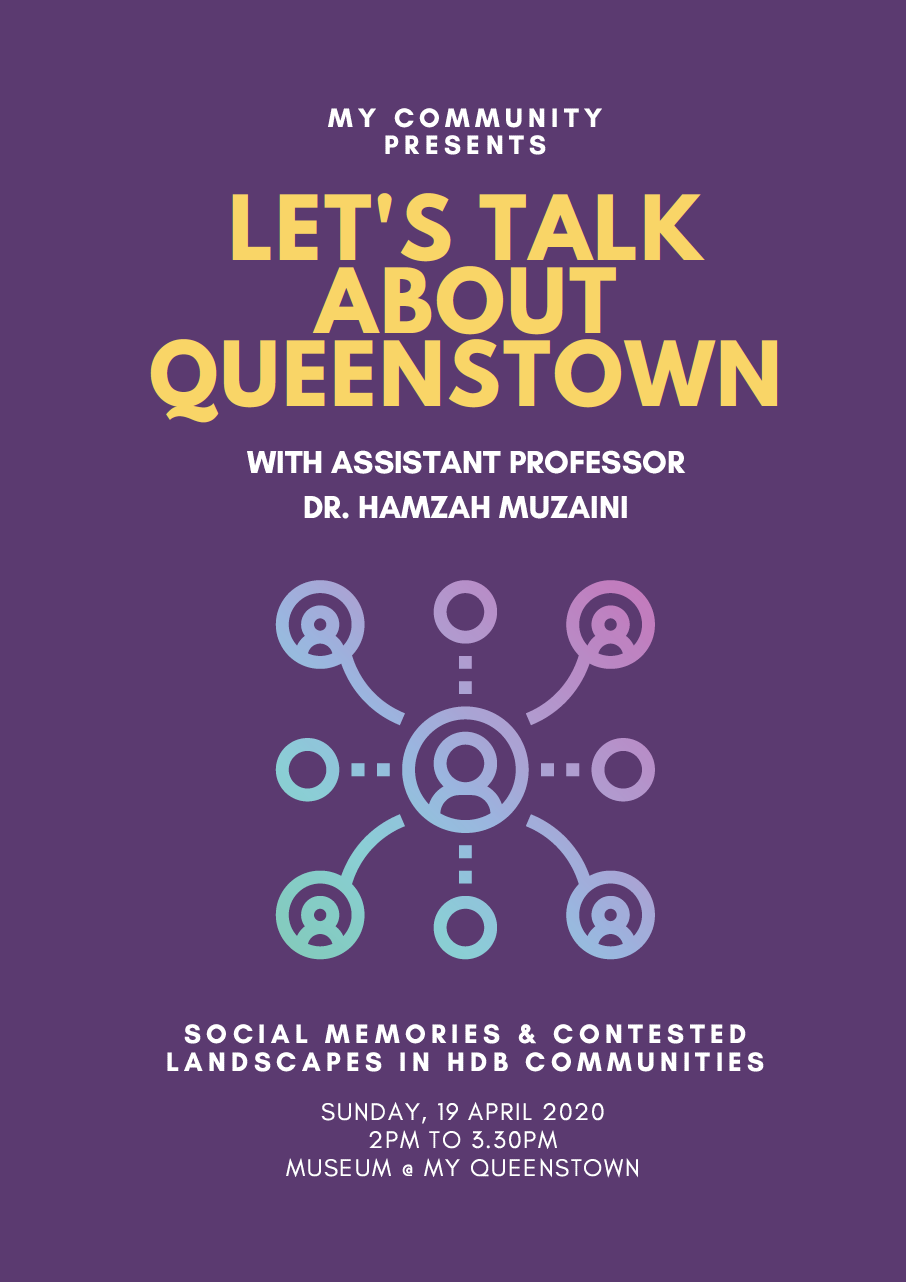 About the speaker
Dr Hamzah Muzaini is a cultural and historical geographer with strong interests in social and spatial theory particularly as applied to heritage, memory and remembrance. His primary research area centres on how heritage associated with WWII is currently and historically commemorated in Singapore and Malaysia, conceptualised around postcolonial theory, materiality, cyber-memorialisation, transnational deaths, and immanent past and practices of power and resistance in everyday spaces. His current research looks at the phenomenon of "heritage-from-below" or forms of non-state memory and heritage produced and consumed on the ground or within more intimate spaces that are not highly visible and so very much at risk.
About Let's Talk About Queenstown
"Let's Talk About Queenstown" is a seminar series organised by My Community where residents and participants can get to know about the different aspects of Queenstown through professionals and experts. The series take place on every 3rd Sunday of the month.
Duration & Venue
Approximate Duration: 1.5 hours (2pm to 3.30pm)

Sunday, 19 April 2020

Language: English

Venue: Museum @ My Queenstown (Block 46-3 Commonwealth Drive 01-388 Singapore 140463)